Traveling photo exhibition - Spaces of (dis)connection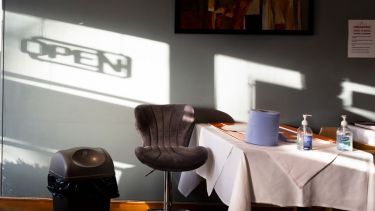 ® Image by Paulina Korobkiewicz
Spaces of (dis)connection: Migrant essential workers, a traveling exhibition based on the results of study "Health, social, economic & cultural impacts of Covid-19 on migrant essential workers in the UK" is coming to Birmingham and London. The exhibition is a result of a collaboration with Centrala, an internationally renowned centre for Central and Eastern European art and artists. 
The exhibition features the work of three visual artists of Polish origin: Małgorzata Dawidek, Sylwia Kowalczyk and Paulina Korobkiewicz. The artists will present original artwork inspired by the stories of  research participants: Polish essential workers in the UK.
Dr Aneta Piekut - one of the project's researchers - said:
---
Essential workers kept the society and economy 'going' during the Covid-19 pandemic. Our research based on the experiences of Poles living in UK and who worked in essential work occupations pointed to many unique challenges they faced as migrants - in places of work, private lives and through separation from family and transnational networks. The exhibition shows various spaces where their lives were uncertain and (dis)connected from the previous lives and routines, family in Poland and the wider society which relies on their hard work.

Dr Aneta Piekut

MRG Co-Director
---
The exhibition will kick off with an official launch in Birmingham and London and will remain publicly available in each city. It will then travel to Scotland (venue TBC). Once it completes its journey, it will be digitised and moved online for all interested viewers.
Exhibition dates, launches, and locations:       
Birmingham: 3-24 Sept, Centrala, available during regular opening times

Exhibition launch: 2 Sept, 6-8 pm. Address: Unit 4, Minerva Works, 158 Fazeley Street, B5 5RT.

London: 1-12 Oct, Clapham Library, available during regular opening hours. Address: Mary Seacole Centre, 91 Clapham High Street, SW4 7DB.
Scotland: dates and venue: TBA. Exhibition launch: TBA.