Migrant Storytelling and Decolonial Approaches to Knowledge Production in Mediterranean, US/Mexico, and UK Borderlands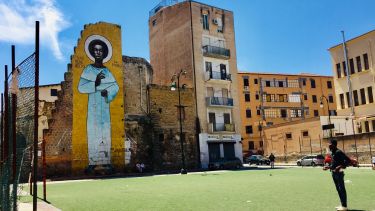 Off
This project (February 2022 - December 2023), a collaboration between Dr. Sara Vannini (Information School, University of Sheffield) and Dr. Megan Carney (University of Arizona), aims to co-create engaged research on participatory methodologies with migrant youth in Sicily, the first point of entry for many people seeking asylum in Europe. Our engaged research activities take place across three borderlands contexts: Palermo, a city that has garnered global renown for being a city of welcome; Tucson, the birthplace of the Sanctuary Movement and a present-day site offervent border activism; and Sheffield, the first City of Sanctuary in the United Kingdom. 
In partnership with the Palermo-based nonprofit Zabbara and their participatory film lab "FunKino: Cinema for Inclusion", we examine: 1) migrant youth engagement in storytelling and the production of narratives (and migration counter-narratives); 2) how participatory storytelling projects connect to an anthropology of liberation and to a decolonial politics of knowledge production; and 3) how the methodology developed by Zabbara through the Funkino project may be translatable and hold transformative potential across different migratory and borderlands contexts. Funkino employs an innovative participatory methodology that centres group interactions around play, creativity, and storytelling. It is distinguished by its unique combination of methods that tap into different senses (including visual, tactile, auditory, etc.) and its commitment to a radically participatory approach that allows for reducing barriers to interpersonal communication, honouring collective – versus individual – contributions, and providing full accountability to migrants at all stages of the process of co-creation. The creation of a shared story is the ultimate end-product of each lab iteration, which is then transformed into a short film to be shown at international film festivals. With the creation of these short films, FunKino aspires to cultivate vocational opportunities for youth participants in an industry where their voices are systematically underrepresented, as well as to enrich contemporary debates about migration into Europe.
Using a collaborative research approach to facilitate the mutual co-production of knowledge throughout all phases of the research design and to generate policy-relevant research, we will disseminate results in academic and practitioner settings, as well as with broader publics. 
This research is funded by Wenner-Gren Foundation (award: $20,000).