Off
One significant highlight of becoming All-Steinway School Accredited is owning a Steinway Model D Grand Piano. A Model D Steinway Piano is considered the pinnacle of concert grands and ideal for anyone who demands the highest level of musical expression. For the University of Sheffield, it is a privilege to have such an instrument of quality and provenance based at the heart of music making activity on campus.
"Once you start playing on a Steinway Model D, then you play differently. They are a different animal. And that is a privilege to have."

Mitsuko Uchida

Steinway Artist 
The Model D piano is situated in Firth Hall which is located in the stunning Grade II listed Edwardian building of Firth Court. The concert hall is home to the University of Sheffield Concert Series which hosts a regular programme of eclectic and musically diverse events. With its high vaulted ceiling and oak panelling, the Hall lends itself perfectly to a musical setting and is also the location of Department of Music performance activities including ensemble rehearsals, performance masterclasses and student recitals. 
Providing a range of Steinway pianos helps prepare our students for freelance work after graduation. Having the different models to play on allows for skills to be gained for when professional performance work requires you to adapt to a range of acoustics in different venues. With the addition of having a Model D on which to perform, students are able to maximise on communicating their creative voice to the audience, and thus perform at the highest level of musical expression.
The balance and detail that each key is able to produce makes the piano suitable to be used for professional recordings, making the University of Sheffield an attractive location for classical, jazz or popular musicians. Having such a prestigious piano places Sheffield on the map as a destination for World-Class musicians to perform. This will further enhance the vibrancy and status of the Sheffield music scene in the UK.  
Selecting our Model D
The selection took place on Tuesday 23rd March 2021 and it was the task of Department of Music staff pianists Anne MacGregor, Benjamin Frith and Antony Clare to ensure that the sound produced was optimal for the environment of Firth Hall and the events scheduled to take place there. MacGregor, Frith and Clare are University of Sheffield instrumental tutors that are regarded as experts in their field of piano performance, and were required to use their highly trained musical ear to spot the difference between the acoustics of each piano.
After a few hours of investigation and discussion, a model was selected which met all the requirements in terms of tone, expression and touch. The chosen Model D was then relocated to it's final destination in Firth Hall, where our student pianist had the first opportunity to play through their repertoire. 
At 8′ 11¾" (274 cm) in length, 61¾" (156 cm) in width and a net weight of 990 pounds (480 kg), the piano is ideally situated for symphonic works, piano concertos and ensemble collaborations. We look forward to you hearing this majestic instrument at one of our upcoming public events.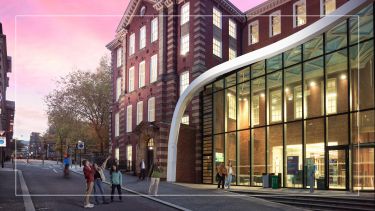 Visit us
Discover what sets Sheffield apart at our undergraduate open days on the Saturday 21 October or Saturday 18 November.