Professor Stephanie Pitts
BA, MEd, PhD, PGCE, FHEA
Professor of Music Education
Director of Sheffield Performer and Audience Research Centre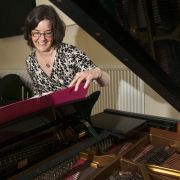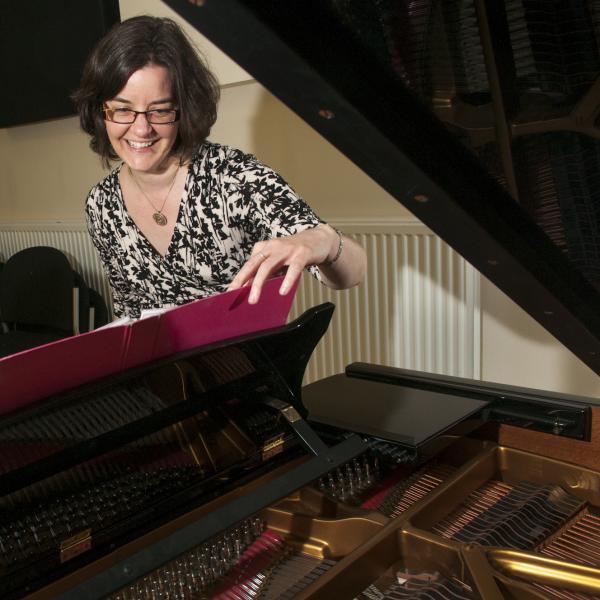 s.e.pitts@sheffield.ac.uk
1.14, Jessop Building
Full contact details
Professor Stephanie Pitts
Department of Music
1.14
Jessop Building
Leavygreave Road
Sheffield
S3 7RD

Profile

My research and teaching interests are in musical participation, concert audiences and music education, and in the qualitative research methods used to understand people's uses of music in their everyday lives. I have recently completed a three year research project funded by the Arts and Humanities Research Council on Understanding Audiences for the Contemporary Arts, working with arts organisations to understand the place of arts engagement and attendance for audiences across four UK cities.
Research interests

I have recently completed an AHRC funded project on Understanding Audiences for the Contemporary Arts, a nationwide project with partner organisations in Bristol, Birmingham, Liverpool and London. Research associate Dr Sarah Price has carried out in-depth interviews with audiences across those cities, investigating people's reasons for going to contemporary arts events and exhibitions, and exploring the limits of what it means to be an open-minded arts attender. Our findings are summarised in a sector handbook that is freely available on the SPARC website and our book will be published by Routledge in Autumn 2020.

My other current research explores various aspects of lifelong engagement in music, using a life history approach to understanding the long term impact of music education (see Chances and Choices: Exploring the Impact of Music Education, OUP, 2012). With support from an AHRC Cultural Value grant, I worked on a study of lapsed musical participation, building on my case studies of amateur performing groups and audiences, published as Valuing Musical Participation (Ashgate, 2005). I am currently working in collaboration with Making Music, the national organisation that supports leisure-time musical groups, and have completed the first phase of a project investigating the effects of amateur musical organisations on their localities.
Publications
Research group

Several of my PhD students have recently graduated, and I am currently principal supervisor to one student and second supervisor to three more. Additionally, I am external supervisor to a student at the University of Queensland, Australia, where I hold the position of Honorary Professor, and also to a student at the University of Hamburg, working on the EU funded Ulysses Project. Topics range across music education, social psychology and audience studies, including aspects of instrumental learning, lifelong engagement, and young people's experiences of music in school and society. I have supervised fourteen doctoral students to successful completion, most of whom have gone on to secure academic posts.

Current students:

Elizabeth MacGregor (2019-, f/t; University of Sheffield scholarship): Musical vulnerability in whole class instrumental teaching

Completed students:

Claudia Braz Nunes (2015-18, f/t): Musical life histories of Portuguese music educators
Mary Hawkes (2011-19, p/t): Applications of sports psychology for enhancing musical performance - Sarah Price (2013-16, f/t; AHRC Collaborative Doctoral Award): Risk and Reward in Classical Music Concert Attendance: Investigating the Engagement of 'Art' and 'Entertainment' Audiences with a Regional Symphony Orchestra in the UK
Lucy Dearn (2013-16, f/t; AHRC Collaborative Doctoral Award): Music, people and place: entering and negotiating listening communities
Josephine Miller (2011-16, p/t): An ethnographic analysis of participation and agency in a Scottish community-based music project
Teresa Rombo (2012-15, f/t): Portuguese Music for Cello since the beginning of the twentieth century
Michael Bonshor (2009-15, p/t): Confidence and the choral singer: the effects of the choir configuration, collaboration and communication
Melissa Dobson (2006-10, f/t; co-supervised by Professor Chris Spencer; university studentship): audience enjoyment and experience in classical concerts
Sofia Serra (2008-10, f/t; previously supervised by Professor Jane Davidson; Portuguese government sponsorship): personality and attachment in singing teacher-student interactions
Tim Robinson (2004-10, p/t; co-supervised by Dr Nicola Dibben): how popular musicians teach
Kate Gee (2005-9, f/t; co-supervised by Professor Chris Spencer): brass musicians' careers and identities
Susan Monks (2002-8, p/t): perceptions of the singing voice and vocal identity
Simone Kruger (2002-6, f/t; co-supervised by Professor Jonathan Stock; AHRC funded): teaching and learning ethnomusicology in higher education
Daphne Bryan (1999-2004, p/t; co-supervised by Professor Eric Clarke): student-teacher interaction in the piano lesson
Grants

2017 Arts and Humanities Research Council (AHRC) (£342,832) Understanding audiences for the contemporary arts
2014 University of Sheffield Impact, Innovation and Knowledge Exchange Fund (IIKE) (£20,542) – Understanding audiences for the contemporary arts
2013 Arts and Humanities Research Council (AHRC) (£37,532) Cultural Value project: 'Dropping in and dropping out – exploring experiences of lapsed and partial arts engagement'
2013 Arts and Humanities Research Council (AHRC) (£109,056) Collaborative Doctoral Awards: two funded studentships on 'Music, place and people'
Teaching activities

I was appointed as lecturer in the music department in 1999 after completing my PhD on the history of secondary school music education, so joining the many people who come to Sheffield as students and decide to make their home here. Since 2014 I have been a Professor of Music Education, and I was Head of Department from 2015-18.

I enjoy teaching and research equally, and benefit from the connections between them too. At undergraduate level, my modules include Music, Community and Education, which gives students opportunities to undertake research placements in local schools and arts organisations, providing experiences that often shape their future careers. I contribute to MA teaching in psychology of music, both onsite and via distance learning, and am course director for our MA Music Psychology in Education, Performance and Wellbeing. My commitment to teaching has been recognised in a Senate Award for Teaching Excellence, and I am a Fellow of the Higher Education Academy.
Professional activities and memberships

Much of my research and teaching involves partnerships with arts organisations including Music in the Round, Birmingham Contemporary Music Group and City of Birmingham Symphony Orchestra. I also have strong links with local secondary schools and with Sheffield Music Hub, who regularly offer placement opportunities for students on my music education and community music modules. In addition to this, my work has included:

Associate Director of the Centre for Cultural Value
Editorial board member - Journal of Popular Music Education, Participations, and Arts and Humanities in Higher Education
Guest special issue editor for Participations, and Journal of New Music Research
International advisor on the Music Generation project in Ireland
Former co-editor of British Journal of Music Education (2002-7).