Our music degree offers both specialist music training and academic study, allowing students to hone their critical abilities as well as their creative ones. This means our students graduate with a broad and diverse skill set, opening up a host of career options, both in music and in other sectors.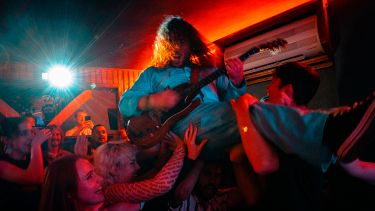 We've chosen a selection of stories to showcase how our students and graduates are succeeding within today's music industry:
Emily Compton (BMus Music, 2018) is commissioned to write music for the international theatre project, Little Amal, in support of refugees. Emily collected words and sounds from different community groups in Sheffield to collate into a dance piece, which included samples from fellow Sheffield Alumni. 
The Sheffield Beatles Project returned for it's 5th year to perform the 'The Blue Album' with a 30 piece orchestra at the Sheffield O2 Academy. The band set up by Sheffield Alumni brings together old friends, a wealth of talent, and a electric show for Beatles fans.
Born out of the University of Sheffield Indian music ensemble, the band 'Mishra' embark on their UK album UK tour, performing a unique fusion of folk, traditional and Indian music. Made up of Department of Music alumni and staff, the ensemble has received glowing reviews from Folk Radio UK: 'It takes both exceptional musicianship and limitless imagination to bring all this together to create attention-grabbing music that is also easy on the ear'. 
PhD student, Caroline Curwen, has her research article 'The role of synaesthesia in reading written musical keys' accepted for publication in the 'Journal of Experimental Psychology'. This is a notable achievement due to the journal's rigorous review process, and demonstrates the high quality output of music psychology research at Sheffield.
Our community of electroacoustic composers showcased their original compositions to a sold out Firth Hall. Sound Junction is one of the UK's longest-running and most significant concert series dedicated exclusively to acousmatic, electroacoustic music and highlights the work created in our high-tech University of Sheffield Sound Studios. 
A world-class university – a unique student experience
Sheffield is a research university with a global reputation for excellence. We're a member of the Russell Group: one of the 24 leading UK universities for research and teaching.