Music Mind Machine in Sheffield combines musicology, psychology and computer science to investigate music cognition and behaviour. It aims to form a bridge between these disciplines in terms of methodology and by bringing people together.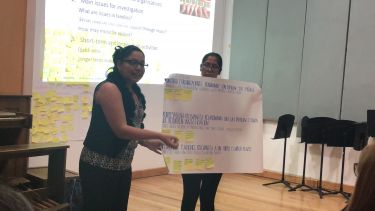 Projects
Our research investigates the perception and expression of emotion in music, comparing it for example to the perception of emotion in language. Performing music expressively is a second major research theme, including expressive performance in musical ensembles. Our third strand of research investigates how different modalities such as vision, audition and movement interact in musical experience and performance.
Perception of emotion in music
Perception of emotion in music and language in cochlear implant users (Tim Metcalfe, WRoCAH PhD project)
Perception of consonant and dissonant musical chords (Yuko Arthurs, PhD project)
Interactions between emotion and cognition in music perception (Renee Timmers, British Academy Small Research Grant)
Expressive performance of music
Multimodal perception of music
Synesthesia and musical memory (Caroline Curwen, PhD project)
Cross-modal perception of music (Renee Timmers, Zohar Eitan, British Academy International Network)
Embodied and enactive music cognition (Andrea Schiavio, PhD project)
Modelling sensori-motor learning (Giacomo Spigler, BioHybrid PhD project) 
The role of cross-modal information in inter-performer communication (Renee Timmers, Leverhulme International Academic Fellow)
Music in everyday life
Space and embodiment in headphone listening (Jacob Downs, PhD project)
Musical imagery as unconditioned response of music listening (Ioanna Filippidi, PhD project)
Music and gambling (Stephanie Bramley, PhD project)
Music's role in shaping sociability: the case of young people and marginalised youth (Kate Wareham, PhD project)
---
Events and opportunities
There are different ways in which you could get involved in the research centre. Some possibilities are listed below:
Ways to be involved
Volunteer to participate in research
Participate in the biweekly reading group
Present and/or attend research events
Pay a visit or do a brief research internship
Initiate a collaboration
Apply to study
People and partners
The centre is directed by Dr. Renee Timmers and Prof. Nicola Dibben. We closely collaborate with partners in Computer Science and Engineering, Psychology and Medicine.
Facilities
Facilities include two dedicated lab-spaces for music psychological experiments, and a high specification sound studio. Equipment available to students and researchers include equipment to measure hand-movements, physiological and neurophysiological responses, reaction times, muscle tension (EMG), as well as digital performance instruments, video and audio recording equipment.
Events at the University
Browse upcoming public lectures, exhibitions, family events, concerts, shows and festivals across the University.