Future Electric Vehicle Energy Networks supporting Renewables (FEVER)
FEVER will create a new EV charging solution that can deliver fully grid-independent, renewably powered charging using a novel off-vehicle energy store (OVES).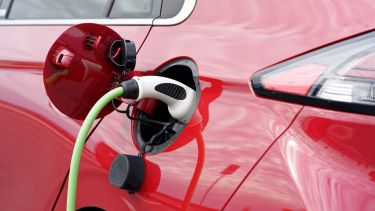 It is anticipated that the FEVER project will help to solve the problem of available grid capacity for EV charging as the number of EVs in operation increases, whilst also providing additional 'green' charging infrastructure to support logistics fleets.

FEVER Project

Dr Erica Ballantyne
The 5year FEVER project, a £6.6m EPSRC funded joint programme between four UK universities (lead by Southampton University, with University of Sheffield, Portsmouth University and University of Surrey) aims to develop Electric Vehicle (EV) charging hubs that deliver off-grid renewable electricity generated from onsite solar and wind technology. With the UK transport sector now the largest contributor to the nation's carbon emissions, FEVER clearly supports the 'Ten Point Plan for a Green Industrial Revolution', Point 4 – Accelerating the Shift to Zero Emission Vehicles; and supports the National Infrastructure Strategy which will invest £1.3 billion in EV charging infrastructure. The ambitious project plans to deliver 2 EV charging hub demonstrators to trial in the UK from 2025, each with space for six to eight EVs. The charging hubs will use state-of-the-art energy storage technologies to provide green electricity to EVs 24-hours a day, seven days a week, without taking a single kilowatt from the national grid.
The on-site 'off-vehicle energy storage' system will use a mix of technologies to provide short- and medium-term energy storage, as well as seasonal power banks. Thus, the renewable on-site generation will not be connected to the grid, instead storing locally generated green energy until needed. This enables EV drivers to charge using solar energy generated earlier that day or draw down on stored wind or solar generated energy harvested from another day. 
In addition, the project, also backed by commercial partners including Siemens and Shell, will explore opportunities for commercial EV fleet charging to support the UK transport sector achieve NetZero targets; and develop an app for drivers to check charging availability at hubs prior to arrival, and pay for charging. 
The project marks the first time engineers will have worked closely with social scientists and economists to develop a real-world charging solution of this kind. FEVER proposes a novel solution to the current trilemma of achieving significant growth in EV charging infrastructure, facilitating continued development of on-shore renewable generation and mitigating electricity grid constraints.
Staff
Flagship institutes
The University's four flagship institutes bring together our key strengths to tackle global issues, turning interdisciplinary and translational research into real-world solutions.