David Hollis' paper awarded 'best paper' at the EGOS colloquium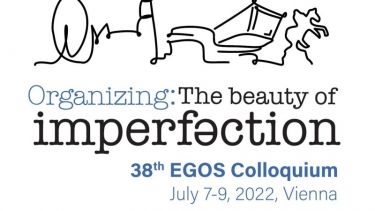 The paper, co-authored with Ellen Nathues (Chair for Entrepreneurship, Organization, and Culture at the Leuphana University of Lüneburg) and François Cooren (Chair of the Department of Communication at the Université de Montréal), received the most votes out of the 25 papers presented within the sub-theme. The paper was voted for by sub-theme attendees who have renowned expertise in the areas of communication and performativity within management and organization studies, and so marks a prestigious award.
Hollis' paper will now be put forward alongside the other sub-theme award winners for the 'best paper' of the 2022 EGOS conference, with the EGOS board announcing their decision next summer. 
EGOS is a scholarly association which provides a forum for identifying and discussing key issues in organisational theory and practice. They embrace diversity of all kinds including a pluralistic approach to understanding organisations from the perspective of social sciences and they welcome 2600 members (and counting) representing 60 countries from across the globe.
Flagship institutes
The University's four flagship institutes bring together our key strengths to tackle global issues, turning interdisciplinary and translational research into real-world solutions.