Q+A: Professor Gillian Gehring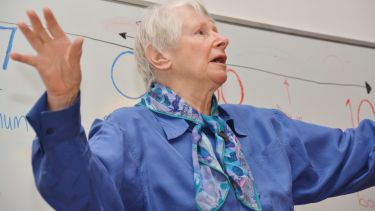 The theme of International Women's Day 2021 is #ChooseToChallenge, which asks all of us to call out gender bias and inequality, seek out and celebrate women's achievements, and help level the playing field.
In this interview series Megan Davenport-Connolly – a University of Sheffield Physics and Philosophy graduate and current Science Communication MSc student – speaks to Emeritus Professor Gillian Gehring about her life, her career, and what she sees as the future for women in physics.
---
Introduction
Part one: About Gillian
Part two: Outreach
Part three: Gender
---
Emeritus Professor Gillian Gehring
Gillian is Emeritus Professor in the Department of Physics and Astronomy and remains extremely active within the University and beyond. She was the first, and to date only, woman Professor of Physics at Sheffield, and only the second woman ever to hold a Professorship in a UK Physics Department.
She is a distinguished international research leader in magnetism and orbital ordering, making great contributions to both theoretical and experimental projects, with her seminal work on the co-operative Jahn-Teller effect inspiring a generation of new physics experiments.
Gillian has also inspired a new generation of young people to be excited by physics, establishing one of the first comprehensive outreach programmes, promoting physics and astronomy in primary schools, to which she now devotes much of her time.
She has also led national and international efforts to increase the number of women studying physics, and campaigned tirelessly for gender equality in STEM subjects as a whole. She sits on the Administrative Board of the European Platform for Women in Science, has served on the Institute of Physics' Women in Physics Group, and Chaired the Women's Group of the European Physical Society. Amongst the honours she has received are an OBE, honorary membership of the Institute of Physics and their prestigious Mott Medal.
A world top-100 university
We're a world top-100 university renowned for the excellence, impact and distinctiveness of our research-led learning and teaching.