Researcher wins prize for work on gravitational wave telescope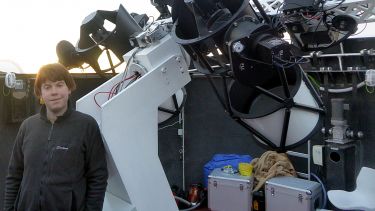 A researcher who has been working on a telescope that detects optical signals from gravitational waves has won a prize for his work.
Dr Martin Dyer, who completed his PhD in the Department of Physics and Astronomy in 2019, has been awarded the Royal Astronomical Society's Patricia Tomkins Thesis Prize.
For his PhD project, Martin developed a telescope control and scheduling system for the Gravitational-wave Optical Transient Observer (GOTO) telescope. He continues to work on the telescope as a Research Associate in the Department's Astrophysics group.
Martin said: "I was delighted to have been awarded this prize by the Royal Astronomical Society. I've immensely enjoyed my time working on the GOTO telescope, from developing the software and testing the instruments in the lab in Sheffield, through to spending many long nights at the mountain-top observatory.
"It's been fantastic to see my PhD work contribute to such an important international project, and I'm looking forward to building upon it over the next few years."
GOTO was added to the telescope facilities on La Palma in the Canary Islands in 2017, following the first detection of gravitational waves by a global team of scientists that included University of Sheffield physicists.
The telescope's job is to locate optical signatures associated with gravitational waves as quickly as possible, so that astronomers can study these sources with a variety of telescopes and satellites before they fade away.
It was developed by a team including Professor Vik Dhillon, who supervised Martin's PhD. He said: "Martin not only wrote an outstanding PhD thesis, but he also made a huge contribution to the success of the GOTO project. I am so pleased to see the Royal Astronomical Society reward his efforts in this way."
The Royal Astronomical Society awards three prizes each year: the Michael Penston Prize for the best thesis in astronomy and astrophysics, the Keith Runcorn Prize for the best thesis in geophysics and planetary science, and the Patricia Tomkins Prize for the best thesis in instrumentation science for astronomy and geophysics.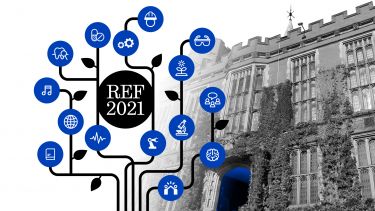 Research Excellence Framework 2021
We have been rated 1st in the UK in terms of the quality of our research. In the latest REF, 100 per cent of research and impact from our department has been classed as world-leading or internationally excellent.
A global reputation
Sheffield is a research university with a global reputation for excellence. We're a member of the Russell Group: one of the 24 leading UK universities for research and teaching.