Sheffield scientists 'see the chemistry' of bacterial cell walls to aid new antibiotic insights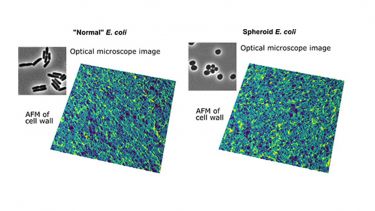 University of Sheffield researchers have paved the way for new insights into how antibiotics kill bacteria, by capturing highly detailed new images of bacterial cell walls.
Postdoctoral researcher Dr Robert Turner showed that artificially changing the shape of rod-shaped E. coli cells into spheroids makes molecules in the cell wall lose their orientation.
Typically, chain-like molecules (polysaccharides) in the cell wall orient themselves in roughly the same direction around the circumference of rod-shaped cells. But in spheroid cells, they orient themselves essentially randomly.
The research, which was led by Professor Jamie Hobbs in the Department of Physics and Astronomy, and Professor Simon Foster in the Department of Molecular Biology and Biotechnology, has been published in a new paper in Nature Communications.
Professor Hobbs, a coordinator of the University of Sheffield's Imagine: Imaging Life project, said: "Now we can actually see the molecular organisation of the cell wall, it opens up a whole new world of experiments to help understand the physics of how bacteria live, and how they die when treated with antibiotics."
Professor Foster, also a coordinator of Imagine, said: "For the first time we can 'see the chemistry' of the essential cell wall polymer of bacteria. This has important implications for understanding how bacteria grow and the action of antibiotics."
The Imagine: Imaging Life project brings together biologists, physicists, and chemists in using revolutionary microscopy techniques to answer some of the biggest questions in biology and medicine.
Dr Turner's research used Atomic Force Microscopy (AFM), a very-high-resolution type of scanning probe microscopy (SPM) with a resolution up to 1000 times greater than the resolution of optical microscopy.
Recent advances in AFM meant that Dr Turner could visualise the material in sufficient detail to resolve individual chains of sugars in the cell wall.
It is hoped that the new insights such as these, gleaned using Sheffield's state-of-the-art technology, will help fuel a long-term response to major global healthcare challenges such as the problem of antimicrobial resistance.
Professor Foster said: "This is an interdisciplinary area where Sheffield leads the world in the application of advanced Atomic Force Microscopy to bacterial imaging."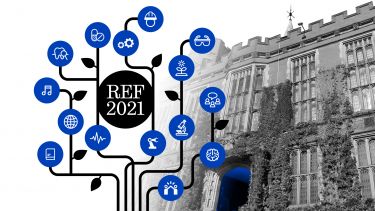 Research Excellence Framework 2021
We have been rated 1st in the UK in terms of the quality of our research. In the latest REF, 100 per cent of research and impact from our department has been classed as world-leading or internationally excellent.
Flagship institutes
The University's four flagship institutes bring together our key strengths to tackle global issues, turning interdisciplinary and translational research into real-world solutions.