Study sheds new light on energy conversion in organic semiconductors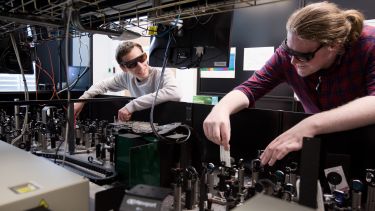 Researchers have published a new study that gives scientists a better understanding of the processes driving spectral conversion in organic materials.
The study helps to explain how high energy photons can be converted to pairs of low energy photons, and vice versa, through the processes of down-conversion and up-conversion. This knowledge could be used to make more efficient solar cells and have useful biological applications.
Researchers in the Department of Physics and Astronomy, and the Department of Chemistry, focussed on a form of down-conversion called singlet exciton fission, and the same process in reverse, known as triplet-triplet annihilation.
David Bossanyi, a PhD student in Physics and Astronomy, said: "Singlet fission and triplet-triplet annihilation represent very promising ways to realise efficient down- and up-conversion respectively. Being able to do this efficiently would give us a way to, for example, boost the power conversion efficiency of conventional solar cells to well above their traditional limits.
"There is still considerable uncertainty and debate surrounding the mechanism of both singlet fission and triplet-triplet annihilation, in particular regarding the role of an intermediate triplet-pair state, called 1(TT). Understanding the role of 1(TT) is crucial for engineering efficient photon up- and down-converting materials. In addition, this 1(TT) state is interesting in its own right. It's an example of something known as a biexciton, one of the more exotic excited states found in condensed matter systems."
In the study, led by Dr Jenny Clark and published in Nature Chemistry, researchers investigated the 1(TT) state in triplet-triplet annihilation, using two different classes of materials. Experiments were carried out in the University of Sheffield's Lord Porter Ultrafast Laser Spectroscopy Laboratory.
"We were able to measure light emission from the biexciton state in both cases, and used this data to show that the 1(TT) state is an important intermediate in the triplet-triplet annihilation process," David said. "We think our results are interesting because they show light emission from a biexciton state, which people used to think was unlikely, and that this biexciton is directly involved in triplet-triplet annihilation, which has implications for the overall efficiency of photon upconversion."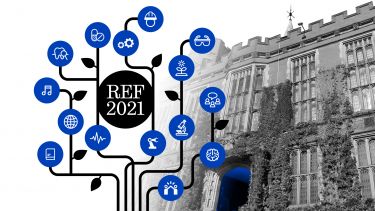 Research Excellence Framework 2021
We have been rated 1st in the UK in terms of the quality of our research. In the latest REF, 100 per cent of research and impact from our department has been classed as world-leading or internationally excellent.
A world top-100 university
We're a world top-100 university renowned for the excellence, impact and distinctiveness of our research-led learning and teaching.