Your chance to explore fascinating Physics topics, meet world-leading experts and get a taste of what life as a researcher is like.
Off
The White Rose University Consortium is a strategic partnership between the Universities of Leeds, Sheffield and York. We have teamed up to offer a unique, online, physics work experience opportunity.
This will take place from Monday 25 July - Friday 29 July 2022. During the week you will have the opportunity to work with an academic staff member on their research area to review journal articles and produce a conference-style poster. You will then share this in small groups in a conference activity at the end of the week.
You will be supported by sessions on how to read a journal article and how to produce a conference poster, and with live forums to enable you to ask questions on a daily basis.
There will also be an opportunity to meet our undergraduate students and find out more about life at university. There will be between one to two and a half hours of interactive activity each day, and you will be expected to work independently on your project outside these times.
Applicants should apply to the programme by Sunday 20th March 2022.
---
FAQs
Who is the work experience open to?

The work experience programme is only open to students in year 12 during academic year 2021/22.  We regret that we cannot offer work experience to year 10 or 11 students at this time.

Where will the work experience take place?

All of the work experience will take place online. You'll need to do some work on your own at home too, outside of the online taught sessions.

When will the work experience take place?

The week will take place from Monday 25th July 2022, finishing on Friday 29th July 2022. There will be some live sessions to join at a regular time each day, but you can work at your own pace.

What is the time commitment of the work experience programme?

We expect that you'll spend 2-3 hours each day on the program, which includes the live sessions, plus any additional time spent on researching and preparing your poster.

What will I be doing?

Interview academic staff and researchers to find out about their cutting edge research.

Work on a mini research project to produce a poster.

Learn skills that will prepare you for university.

Try out a practical session to explore astrophysics using just your calculator.

Present your work at a showcase conference.

Can I use this work experience for my UCAS form?

After completing the week's activities and presenting your poster at our mini conference, you will receive a certificate of recognition from the White Rose Universities.

What will I need to be able to take part?

You will need to be able to connect to the internet with video and sound to view our online teaching and Q&A sessions.

You will need materials to create a poster, this can be done on a computer or with pens and paper you may have at home.

You'll need to be able to upload a copy of your poster to our online platform to present at the conference (we'll help you with this). If you make your poster with paper and pens you can upload a photo of it.

You'll also need a scientific calculator. If you don't have one, you could use Google's version here.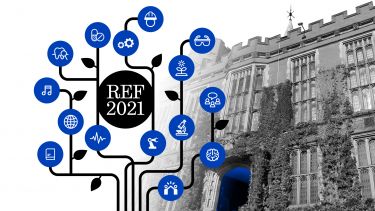 Research Excellence Framework 2021
We have been rated 1st in the UK in terms of the quality of our research. In the latest REF, 100 per cent of research and impact from our department has been classed as world-leading or internationally excellent.
A global reputation
Sheffield is a research university with a global reputation for excellence. We're a member of the Russell Group: one of the 24 leading UK universities for research and teaching.