Physics is at the heart of many major and growing industries, from computing and nanotechnology, to renewable energy and space exploration.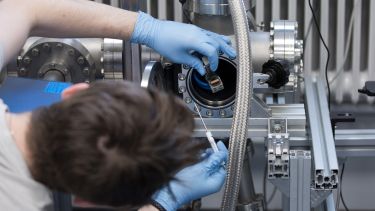 The specialist knowledge and practical skills that our students get from their degrees has helped them find jobs at organisations such as Rolls Royce, Toshiba, CERN, BAE Systems and the National Space Agency.
Many of our students continue their studies by doing a PhD or other postgraduate training, so they can pursue a career in academia or research. They can also apply their skills outside of science, in areas such as teaching, charity work, sales, marketing, accountancy and management.
Student stories
Support while you study
As a physics and astronomy student, you'll get lots of support to help you work out what you want to do after graduation, and the steps you need to take to get there. We host weekly careers talks, plus one-to-one careers advice sessions.
As part of the White Rose Industrial Physics Academy, we can set up collaborations between our students and industrial partners. By giving you hands-on experience of research and development projects with industry, WRIPA can help you get more skills and experience for your CV, and expand your career opportunities. We've also hosted the biggest specialist physics careers fair in the UK, in conjunction with WRIPA – students met staff from more than 40 companies.
The University's Careers Service runs workshops on CV and application writing, job hunting and preparing for interviews. They offer tips tailored to physics and astronomy students, events where you can meet employers, and opportunities to get work experience while you study. Schemes such as the 301 Academic Skills Certificate will help you show employers that you're ready for the world of work. The Careers Service will continue to support you for three years after you graduate.
Placement year
Isabelle Gessey did a placement year as part of her degree. She worked for the Science and Technology Facilities Council at Daresbury Laboratory, a government scientific research company where a new particle accelerator is being built.
---
I really feel like I am contributing to the scientific community – particularly as there is an opportunity for me to present my work at an international accelerator conference in Copenhagen.

Isabelle Gessey

MPhys Physics and Astrophysics with Employment Experience
---
Careers guide for physicists
We've produced a careers guide for physicists as part of the White Rose Industrial Physics Academy. Inside, you'll find lots of information about where a physics degree can take you, and advice on getting your first graduate job.