The University of Sheffield Politics Society
Our society is one of the best ways politics students can get to know each other, settle into student life and enhance their university experience.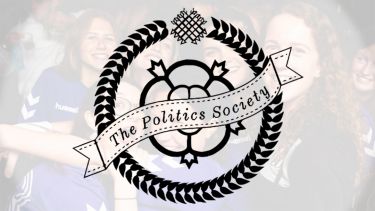 The Politics society is the perfect place for all University of Sheffield students who are enthusiastic about Politics and International Relations. We provide all sorts of opportunities for you to engage in with course friends, alumni, and staff.
Here are some of the things we get up to:
Political events
Socials
Networking sessions
European trips
Intramural sports teams
Political speaker sessions
Volunteering
We are a very active community and have ongoing projects such as the Pocket Politics Podcast and The PolSoc Paper.
---
We are incredibly proud that, in 2020, the Politics Society was awarded the PSA's Politics Society of the Year for its 'innovative activities,' 'inclusivity,' and 'activities beyond campus.'
---
We host a variety of events for our members including political, social, and community events.
Some Examples Are:
Talks and seminars with MPs and Think Tank speakers
Nights out and Sober Socials
Freshers socials
Society Collabs (Like our event with Dance your Socks off)
Annual trips abroad
Winter Dinner and Summer ball
We work with other political societies to ensure we are offering dynamic events that reach everyone on the political spectrum. Our social secretaries are also expanding the activities on offer to increase fun and inclusivity. We are keen to stress that there are no drinking initiations for students.
---
We have a number of successful sports teams in the intramural leagues. Including Netball and Men and Women's Football, with both 6 aside and 11 aside teams.
Whether you're a professional or a complete beginner, everyone is welcome to join the sport team of their choice. It's a great way to take a break from studies and make some lasting friendships with your course mates. Each sport organises their own socials and awards nights - it's all great fun!
---
As well as loads of great activities on campus, we offer a bunch of opportunities to get involved with politics beyond the campus. Develop your skills, build valuable contacts, and let out your creative side.
Charity and volunteering

We organise a variety of fundraising events throughout the year to raise money for our chosen charity, Assist Sheffield.

Annually we also run a volunteering scheme called People's Politics. Where you can develop essential skills by planning and delivering Politics lessons to primary school students.

Alumni networking

A big part of this society is providing our members with opportunities to network and build useful contacts. We hold careers fairs, networking events, and a variety of talks from industry professionals to enhance your employability awareness and ambitions.

Pol Soc media projects

As well as focussing on skills development and networking we also have two mainstream media projects.

PocketPolitics

Podcast Our student lead Pocket Politics Podcast features a youth perspective on politics and global events. We look to have friendly discussions about a variety of topics, from the financial sector to feminism. Featuring guest speakers ranging from staff to students and sometimes from beyond the campus! Find us on Spotify, Google podcasts, and Radio Public.

PolSoc Paper

The PolSoc Paper is a revival of an older PolSoc Project. The Blog is an opportunity for political writers to have a space and domain that is completely theirs.

Any University of Sheffield student can contribute to our growing online paper and we welcome articles on a wide range of topics as long as it relates to politics!

To pitch an article get in touch with the Editor-in-Cheif, Josh Thory-Rao, jnthory-rao1@sheffield.ac.uk 

For more information and to keep up to date with the paper join the PolSoc Paper Team Facebook group.
 
---
The Politics Society is wonderful as it provides support for all students regardless if they do Politics or not. I have met new people and even been on a trip to Amsterdam. You'll definitely emerge a more confident person with greater social skills.

Ifrah Ismail

BA Politics and International Relations
---
---
If you would like to join The Politics Society here at The University of Sheffield, then you can do so by visiting our page on the Sheffield Students' Union website: https://su.sheffield.ac.uk/activities/view/politics-society.
Costs
Membership costs just £15 for three years or £5 for one year. Masters students can opt for a discounted membership priced at just £4 for one year.
The membership fee goes towards the organisation and running of our activities, making sure we give you the best value for money for all the socials, sports, charities and activities you can get involved in during your time at Sheffield.
---
If you have any questions for us or would like any more information about PolSoc, do get in touch! You can email us at politics.society@sheffield.ac.uk, or contact us via our social media using the links below:
---
President - Annabel Trevillion
Secretary - Laura Lazaro Monzon
Treasurer - Kristina Krusteva
Inclusions officer - Julia Kumar
Social Secretaries - Alfie Williams & Nuria Gordon
Events Secretaries - Mark Ormerod & Aimee Llewellyn
Political Events Secretaries - Laura Gilling & Emily Wright
Charity Secretary - Isaac Howarth
Volunteering Secretary - Vacant
Men's Football Secretaries - Jake Love & Benny Phillips
Women's Football Secretary - Eileen Andino-Munoz
Netball Secretary - Rebekah Patterson
Media & IT Secretary - Jake Dannatt
Alumni & Graduate Secretary- Vacant
Podcast Lead - Resh Thomas
Paper Editor - Josh Thory-Rao
A world-class university – a unique student experience
Sheffield is a research university with a global reputation for excellence. We're a member of the Russell Group: one of the 24 leading UK universities for research and teaching.