The University of Sheffield Politics Society
We have over 240 members and it is one of the best ways for politics students to get to know each other and settle into university life.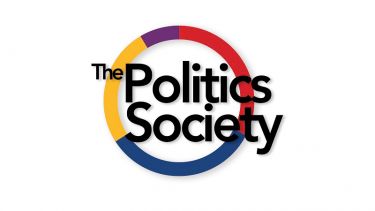 The society provides all sorts of ways for you to engage with your course friends and staff, including: political events, socials, European trips, intramural sports teams, political speakers and a number of volunteering opportunities.
Political events
We offer a variety of political events, such as talks with speakers including Lord Blunkett and the Sheffield Star. We have our Pocket Politics Podcast where students can interview lecturers on a given topic based on their research field. Students are taught to record, edit and organise the podcast. We work with other political societies to make sure we offer dynamic events that speak to everyone on the political spectrum.
---
Other events
We have an annual trip abroad and this year we are going to Budapest, for walks along the Danube with visits to the thermal spa baths and Ruin Bars on the horizon!
You will also be invited to the Winter Dinner and Summer Ball so you can celebrate with course friends by getting dressed to the nines and dancing until morning.
---
Charity and volunteering
The society organises various fundraising events throughout the year to raise money for our adopted charities.This year we are fundraising for the Sheffield based charity Assist.. The society also runs a volunteering scheme each year which you can take part in.The first opportunity is "People's Politics" where students teach politics lessons to year 5 and 6 school children. Our second opportunity is "Broomhall Breakfast Club" where each Friday morning students serve a hot breakfast to vulnerable and homeless adults in Sheffield.
The Politics Society is wonderful as it provides support for all students regardless if they do Politics or not. I have met new people and even been on a trip to Amsterdam. You'll definitely emerge a more confident person with greater social skills.

Ifrah Ismail

BA Politics and International Relations 2018
---
Socials
We offer a variety of different socials throughout the year and this year we're hoping to expand the activities and socials on offer making it the most fun and inclusive year yet.
Our first Freshers Social was to Pop Tarts, but we also attend Dance Your Socks Off, one of the biggest socials across the university. We are sponsored by SOYO, Molly Malones and Tiger Works, members will receive discount cards when they attend one of our socials. 
We also host a number of number of non - alcoholic socials and are keen to stress that there are no drinking initiations for students.
Sports
We have a number of sports teams in the intramural leagues; including successful football and netball teams.
We have a mixed netball team which plays in leagues every Tuesday and Thursday. Our women's football league plays on a Friday afternoon whilst our men's football team host a six aside team on Wednesday, Thursday, Friday and an 11 a side team on Saturday!
Being a professional, amateur or complete beginner makes no difference as everyone is welcome to join their sport team of choice. It's a great way to take a break from studies and make some lasting friendships with your course mates. Each sport organises their own socials and awards nights - it's all great fun!
---
How to join
The POLSOC Facebook group is how the society keeps in contact with its members and lists most of its upcoming events.
You can also email: politics.society@sheffield.ac.uk, or check out the POLSOC website.
Costs
Membership for PolSoc costs just £20 for three years or £10 for one year and will be available online.
The fee goes towards putting on and making sure we give you the best value for money for all the socials, sports, charities and activities you can get involved in during your time at Sheffield.
Get in touch
We look forward to welcoming you to the University of Sheffield. Send us an email or connect with us on social media to get a flavour for what our events are all about:
Your Committee
President - Julia Coulson 
General Secretary - Ashley Booth 
Treasurer - Tabitha Ridgwell
Inclusions Officer - Molly Brant 
Netball Secretary - Eleanor Wase
Football Secretaries - Jordan Weir and Max Harvey 
Social Secretaries - Alice Mahon and Joe Pietrzyk 
Events Secretaries - Chelsea Hargreaves and Archie Mullaney 
Political Events Secretaries - Jack Williamson and Becca Binks 
Charity Secretary - Zoë Eaves 
Volunteering Secretaries - Lily Grimshaw and Beth Twist 
Football Freshers Secretary - Max Haley 
Netball Freshers Secretary - Molly Brant 
We have 241 members in total for this year.
A world-class university – a unique student experience
Sheffield is a research university with a global reputation for excellence. We're a member of the Russell Group: one of the 24 leading UK universities for research and teaching.