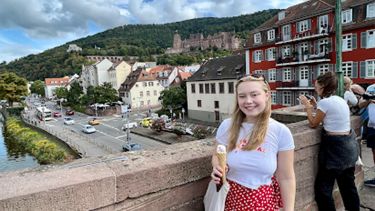 Off
Therme and Badewelt in Sinsheim
On the 1st of November, it's all saints day (Allerheiligen) in Baden-Württenburg, so it was a day off and was also my flatmate's birthday! We decided to go to a spa and thermal bath in Sinsheim, about 3 hours away. It was so much fun, and we had a great time relaxing by the pool, in the jacuzzi and taking in the views. This is a picture of the sunset in Sinsheim! 
Trips to Heidelberg 
Although I love Mannheim, it is missing some greenery unless you are by the Neckar or the Rhein. This is something I really missed about Sheffield! So, I would often enjoy a day trip to Heidelberg to explore. Heidelberg is a small town just south of Mannheim along the Neckar and located in a valley, so there are some mesmerising views. It is so beautiful, and I often think it's like a little fairytale town, a nice escape from the city life in Mannheim. It is only a short 10-15 mins train or a 40-minute tram journey away.
When I first arrived in Manheim, my flatmate showed me around Heidelberg as she used to live there. We walked around the squares, up to the castle and along the bridge. The walk to the castle is steep, but the view is worth it. Coincidentally we were there the same day of the Schlossbeleutchung (the castle light show or illuminations), where they set up fireworks on the bridge. In the evening, everyone gathered around to watch. It was spectacular. Here are some pictures of Heidelberg: there's a view from the river, the castle, the fireworks and me on the bridge with ice cream!