International Women's Day - Celebrating the achievements of our female staff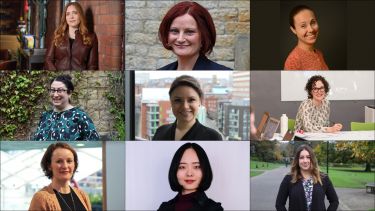 Our department is proud to employ a range of female scholars and support staff who not only teach and conduct world leading research, but who are having an impact on life beyond the University. Here are a few things you may not know about the work our staff have done:
Professor

Ruth Blakeley researches state violence and human rights. She is co-director of The Rendition Project

. Her work on the CIA's Rendition, Detention and Interrogation programme has had considerable impact, including informing litigation on behalf of torture victims at the European Court of Human Rights, and various police and government level investigations into the role of UK's intelligence and security services.

Professor

Charlie Burns works on the implications of EU membership on environmental policy and is co-founder and co-chair of the Brexit and Environment Network

, which has brought together academics and stakeholders to shape environmental policy and politics in the UK. 

Professor Rosaleen Duffy

works on biodiversity conservation, wildlife trafficking, poaching, security and global environmental governance. Her recent BIOSEC Project produced a range of policy briefs and videos

 designed to shape and inform policy on tackling conservation issues and the illegal wildlife trade. 
Find out more about her UKRI Future Leaders Fellowship
Dr Judith Verweijen

works on militarisation and particularly on the intersection of conflicts around natural resources and violence. Having conducted extensive field research in eastern DRC, she is often consulted by policymakers, diplomats, NGOs and journalists. Her insights and work are regularly featured in news and background articles by, for instance, Reuters, Bloomberg and World Politics Review. She has also written numerous opinion pieces, including in Foreign Policy and Foreign Affairs. She is a Fellow of the Rift Valley Institute, for which she has authored numerous policy briefs and reports, in addition to acting as Co-Director of Studies of their annual field course on the Great Lakes of Africa. 

Dr Ann George

researches Asian security issues, focussing especially on Sino-Indian relations. She also has a research interest in norm emergence in the context of the hypersonic weapons arms race. She has spoken about her research on Indian TV, worked for the AOL Huffington Post media group and participated in the NATO Defense College Rome's Deterrence and Nuclear Policy conference.

Dr Sarita Panday

researches issues of e

quity and inclusion in maternal and child healthcare

i

n

Nepal

.

Using participatory research, she has engaged with local communities, NGOs, and policy makers in Nepal. She has brought medical and social science researchers to organise writing workshops for capacity building of researchers in Nepal, and is also

working with the Health System Global to ensure that the community voices are represented in Global Health. 

Junyan Zhu

studies social media and political participation in western democracies. Her recent work focused on the role of misinformation in political communication and how British policymakers evaluate the credibility of information in the 'post-truth' context. Her research report was used to provide guidance to shape the strategy of the Nottingham Institute for Policy and Engagement.

Dr Perla Polanco Leal

researches forced labour in the global supply chains. She is currently collaborating in two research projects funded by the AHRC and Humanity United respectively. She is a part of a team collaborating with Stanford and Yale on developing a series of briefs aiming to provide evidence-based ideas into how to restructure business models and supply chains to build a more equitable economy. In order to disseminate this knowledge Perla and the team are engaging policymakers, businesses, and civil society, among others.

Jennifer Watson

is Senior Knowledge Exchange Associate in the Faculty's newly formed Knowledge Exchange Team. Jennifer has helped to build engagement opportunities with non academic partners such as policymakers, NGOs, charities and other key partners. This has led to Departmental research being used by non-academic partners to deliver societal change. 
We also want to recognise the awesome contribution our female (and lone male!) professional service colleagues make to the smooth running of the Department, going above and beyond to respond to both colleagues and students. Without Sarah Beddow, Sarah Moga, Wendy Birks, Katie Hunter, Jackie Mather, Nicola Moore, Gail Smallwood, Vickie Stewart, Christina Sommerville, Katie Turner and others the Department just wouldn't be the same. A shout out also goes to our wonderful female colleagues supporting the Department from Faculty hubs and beyond.
Flagship institutes
The University's four flagship institutes bring together our key strengths to tackle global issues, turning interdisciplinary and translational research into real-world solutions.