Outstanding Students: Student Citizenship Award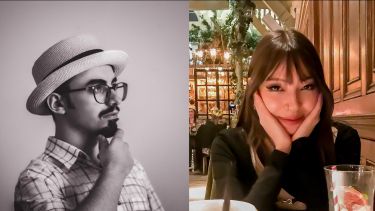 The Department of Politics and International Relations are delighted to announce the winners of the newly created Student Citizenship Award.
A huge congratulations to third year student, Charlotte Koon and second year student Leo Hamza Hoxha, jointly awarded the Student Citizenship Award for all their hard work.
Charlotte has made a huge impression on the department through playing a key role in co-organising a Black History Month event on the work of Charles W. Mills last year.
Leo's role as an Academic and Faculty Representative and an active voice for politics students has had a massive impact on our students and our department this past year.
Since the beginning of his studies Leo has been an Academic Representative for the department. In his role, Leo would represent his colleagues and friends, addressing any issues risen and working with his team to put solutions in place. After his amazing work as an Academic Representative he was then elected as a Faculty Representative.
I have seen the impacts of our work and we have been able to positively influence the decision-making within the institution.

Leo Hamza Hoxha

Student Citizenship Award winner 2022
---
Alongside academic Dr David Duriesmith, third year student Charlotte Koon organised and led a seminar on the work of the late Charles W. Mills. Focussing especially on his 2013 piece 'An Illuminating Blackness' discussing Black philosophy and metaphors of enlightenment in regards to white supremacy as a system.
For Charlotte, discussions of race are personal and relevant to her lived experiences. Because of this, she was enthusiastic to get involved with an opportunity to centre Black philosophy and voices in the department during Black History Month.
It's important to me to have a space where we are able to have these conversations and keep the conversation going. Having Black history events that are visible in the department helps create that sense of belonging which I think is essential for racial minorities - in seeing and being seen

Charlotte Koon

Student Citizenship Award winner 2022
---
The judging panel were particularly impressed by the range and extent of the contribution made by Charlotte and Leo to the department. Their efforts to support other students and play a proactive role in shaping student life are greatly appreciated by the department.
We wish to warmly congratulate both Charlotte and Leo as the inaugural winners of this prize.
---
What is the Student Citizenship Award?
The Student Citizenship award is designed to recognise the work of students who have made a significant and sustained contribution to departmental life alongside their degree programme.
This year, around 15 students were nominated for this award by peers and staff. As well as a big well done to our winners we would like to thank everyone who was nominated, for their commitment and contributions to the department.
Explore the University
Discover why Sheffield is the right choice for you at one of our open days or events.