Warrender Lecture 2023 with Professor Lea Ypi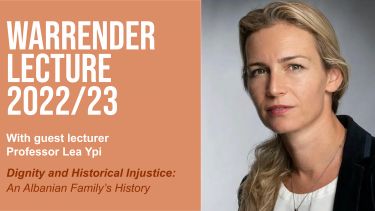 ---
Description
After two years off, we are very pleased to announce the return of the Annual Warrender Lecture to the Department. The lecture will be held on Wednesday 15 March, 4:30pm - 6:00pm, in Diamond Lecture Theatre 2.
We are delighted that this year's guest lecturer is Professor Lea Ypi. Professor Ypi is Professor in Political Theory at the London School of Economics and Political Science and an Honorary Professor in Philosophy at the Australian National University. She is the author of Global Justice and Avant-Garde Political Agency, The Meaning of Partisanship (with Jonathan White), and The Architectonic of Reason, all published by Oxford University Press. Her philosophical memoir Free: Coming of Age at the End of History (Penguin) won the 2022 Royal Society of Literature Ondaatje Prize and the Slightly Foxed First Biography Prize, and is being translated into more than twenty languages. Free was named a book of the year in (among others) the Sunday Times, New Yorker, Financial Times, Guardian, Times Literary Supplement, Spectator, New Statesman, and Daily Mail. Prospect magazine has named Professor Ypi one of 2022's 'World's Top Ten Thinkers'.
The title of Professor Ypi's Warrender Lecture is 'Dignity and Historical Injustice: An Albanian Family's History'. The Lecture will be based on a chapter from her next book project, which explores the moral and political meanings of dignity (both individual and collective) in connection to questions of truth, reconciliation, historical injustice, and the relationship between facts and fiction.
---
The Annual Warrender Lecture is named in honour of Howard Warrender, who was Professor in Political Theory and Institutions at the Department from 1972 until his death in 1985. The inaugural Warrender Lecture was given by D. D. Raphael in 1986. Since then, guest lecturers have included Allen Buchanan, David Held, Cecile Fabre, Cecile Laborde, David Miller, Anne Phillips, and Quentin Skinner.
Events at the University
Browse upcoming public lectures, exhibitions, family events, concerts, shows and festivals across the University.