"What People Want to See in Parties Today" - New report reveals peoples' attitudes towards political parties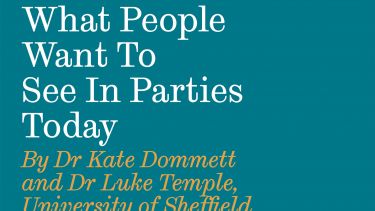 The study reveals that more than three quarters of people are dissatisfied with 'undemocratic', 'self-interested' and 'divided' political parties, and identifies seven main qualities people want to see in parties today:
Transparency – they want to understand what parties do, how decisions are made and what influence they can have.
Communication – they want honest and accountable parties that communicate with the people. They want to know when something has gone wrong and want parties to explain and take responsibility when something doesn't work out as planned.
Reliability – they want to see parties that outline an agenda and stick to it, enacting their manifesto promises and sticking to pledges. They do not want parties that are self-interested, or that are dogmatic and uncompromising.
Principles – they want parties that are guided by their principles when making policies or decisions, using these ideas to filter the different voices and influences that can affect the decision made.
Inclusivity – they want parties to include a range of different voices and ideas. Rather than just listening to members or supporters, people want parties to listen to experts, opponents and the wider public.
Accessibility – they want a range of ways to engage with parties, but they don't want parties to entirely open up. Certain activities should continue to be the preserve of members and leaders, but for less intensive activities citizens want a wider range of people to be able to get involved.
Integrity – they want parties to be honest, ethical and dignified. Rather than focusing on the competition of party politics and the partisan behaviour this can promote, people want parties that have moral codes and principles that underpin how they work.
Political parties can use the results of the report to decipher what changes need to be made to bring their party more in line with what the public want. Dr Kate Dommet said:
"This report has shown that there isn't a single or simple solution, but that parties can usefully think about seven principles that the public wished parties displayed when they consider how to respond."
"By thinking about these principles we argue that parties can review their current processes to decide whether there is a case for reform, a need for improved communication, or a shift in the focus of existing debate."
In addition to their research, Kate Dommett and Luke Temple have collaborated with Involve to produce a series of blog posts written by politicians and think tanks in response to the report.
Flagship institutes
The University's four flagship institutes bring together our key strengths to tackle global issues, turning interdisciplinary and translational research into real-world solutions.