Dr Zeynep Kaya
Department of Politics and International Relations
Lecturer in International Relations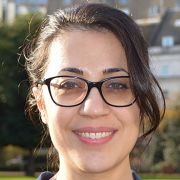 z.kaya@sheffield.ac.uk
+44 114 222 1669
Room 1.4, Elmfield Building
Full contact details
Dr Zeynep Kaya
Department of Politics and International Relations
Room 1.4
Elmfield Building
Northumberland Road
Sheffield
S10 2TU

Profile

Dr Zeynep Kaya joined the Department in May 2021, having previously worked at SOAS and the LSE. She holds a PhD in International Relations from the LSE. Her main research areas involve borderlands, territoriality, conflict, peace, political legitimacy and gender. She has recently published a monograph entitled Mapping Kurdistan: Territory, Self-Determination and Nationalism with Cambridge University Press. 

Zeynep is co-editor of I.B. Tauris-Bloomsbury's book series on Kurdish studies and co-convenor of Kurdish Studies Series with the LSE Middle East Centre. She is also an Academic Associate at Pembroke College, University of Cambridge. 
Research interests

My research adopts an international historical sociology approach to the study of territoriality, borderlands and political legitimacy in the Middle East. I examine how politics related to these concepts change over time in connection with the transformation of international norms in world history. I am particularly interested in understanding non-state political actors (either sub-national or transnational) through situating them within an international context. I specifically focus on the Kurds and other groups in the borderlands of the Ottoman Empire and contemporary states in ex-Ottoman territories. 

A second theme of my research is about the interactions between international and non-state actors in relation to peace, conflict and development processes in the Middle East today. I examine contemporary peacebuilding and development policies on gender, minorities and displacement in Iraq and situate this examination within a long-term political and historical international context. 
Publications

Books

Journal articles

Chapters

Reports

Working papers
Grants

HEIF Knowledge Exchange & Impact Fund, £27K: UK's gender practice in aid and security (2022)
NAFR1180137 British Academy, £5K, Post-conflict emergency rule as a tool of everyday government in Turkey (2020-2021)
KEI Fund (LSE), £45K, Displacement and WPS in Iraq (2017-2019) 
262164UCF GRRI Collaboration Grant, £24K: Victimhood, survival and societal transformation among the Yezidis in Iraq (2017-2019) 
GB-1-- 204428 DFID, £6million (named lead researcher): Conflict Research Programme (2017-2020) led by Mary Kaldor and Alex de Waal
RLWK6-261840247 British Council Researcher Links, £32K: Displacement, social welfare and human security in Turkey: challenges and prospects (2018-2019)
Emirates Foundation, £90K: Complexity of humanitarian response to internal displacement in the Kurdistan Region of Iraq (2016-2018)
Rockefeller Fund, £6K: Disaster and displacement: the resilience of women in Iraq and Nepal (2016-2017)
Emirates Foundation, £90K: International actors and women's rights in the Kurdistan Region of Iraq (2013-2016)
Teaching activities

Dr Zeynep Kaya currently teaches:

POL3043 The Politics of Security
POL3045 Sexual Violence in Armed Conflict
Professional activities

Co-Founder and Co-Editor of Kurdish Studies Book Series I.B. Tauris-Bloomsbury
Co-Convenor of the Kurdish Studies Events Series, LSE Middle East Centre
Specialist Adviser, UK Parliament Foreign Affairs Committee (2017-2018)
Fellow of the Higher Education Authority