The purpose of academic research at doctoral level is to make an original contribution to knowledge. Originality can be demonstrated by the discovery of new facts, the refutation of an old theory, by advancing a new theory, by combining two or more existing theories - or a combination of these.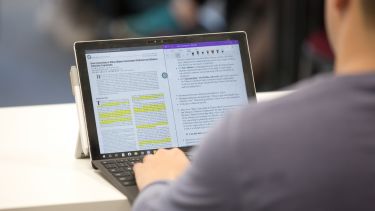 What is a PhD?
You advance to doctoral research after your Honours degree, and normally after completing a Masters degree. You are awarded a PhD after several years of research, culminating in a thesis. It involves serious independent study, although you will be guided by two supervisors.
PhD in Politics
Typical length: three years full-time / six years part-time
Thesis length: 75,000 words
---
What is an MPhil?
Students enrol in the Department as PhD candidates - you cannot apply directly for an MPhil. At a certain stage in your studies, we decide whether you should continue working towards a PhD or enter for a Masters in Philosophy (MPhil). Achieving an MPhil degree demonstrates an excellent knowledge of a field of study or a body of literature, in contrast to the level of originality demanded by a PhD.
MPhil in Politics
Two years full-time / four years part-time
Dissertation length is 45,000 words
Why do a PhD at Sheffield?
World-recognised research strengths
We welcome research proposals across the broad range of political science and international relations. The department has considerable strength in the following fields:
International Political Economy
Comparative Political Economy
International Relations
Political Development and/or Democratisation (including in Latin America, Africa, the Caribbean and South Asia)
European Politics including the European Union
British Politics
Governance and Public Policy
Political Sociology
Political Theory
We can offer supervision using a range of approaches: quantitative, qualitative, critical theory and gender.
---
Respected academic supervisors for a huge range of topics
We recognise that postgraduate research is a major commitment, and know that our students need a commitment from us, too. That's why we take your supervision very seriously and offer extensive academic and departmental support. This is done mainly through supervision - a one-to-one personal mentoring and advising role. You will also have a second supervisor, a tutor, and support and guidance through our research training modules.
All of our academics supervise PhD students, and we strive to create the best possible match between students and their two supervisors. You can find information about each of our academic's research interests on their staff profiles.
You might also find it useful to look at what some of our current PhD students are working on.
---
Recognised for our high standard of training
For those seeking a career in academia or research, our training has been recognised by the UK Economic and Social Research Council, and the ESRC quota awards we are able to make reflects the high regard in which our training is held. Our department has a very well-established reputation for an inclusive research ethos and for its research excellence, which finds expression in research-led teaching at Masters level.
We offer students a variety of ways in which to participate in the Department's intellectual community:
Masterclasses
'Teach-ins': addressing topics of major contemporary interest, such as the US presidential elections.
Research Training Groups: targeted at research and '1 + 3' students.
Activities organised by research centres within the University, including SPERI (Sheffield Political Economy Research Institute) which is housed right here in the Department.
Find a PhD
Search for PhD opportunities at Sheffield and be part of our world-leading research.