Research
As one of the UK's top research departments, we are one of the very best departments for politics and international relations in the UK, producing groundbreaking research across the whole range of the discipline.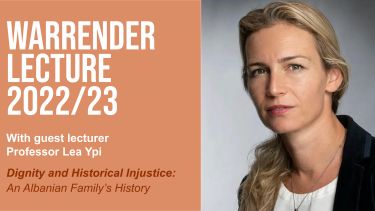 Warrender Lecture 2022/23
After two years off, we are very pleased to announce the return of the Annual Warrender Lecture to the Department. This year's guest lecturer is Professor Lea Ypi.
Register here
Understanding civil war from pre- to post- war stages: A comparative approach
"Every year, civil wars kill, displace and force millions of people into poverty, creating humanitarian and environmental crises." Hear more from Dr Anastasia Shesterinina as she discusses her commitment to advancing research into civil wars and how this led to being awarded her recent UKRI Future Leaders Fellowship. 
What have pandemics got to do with politics?
Dr Simon Rushton discusses what pandemics have got to do with politics, and how national governments and the international community responds to pandemics in a recorded seminar.
Post-Brexit governance project featured in documentary
Dr Matt Wood is currently involved in a project looking at post-Brexit governance in an area that was critical in the referendum debates: health and the NHS. The project has been featured in Shout Out UK's documentary 'Brexit, Health and Me', which follows the project team's research on Brexit and how it is going to impact our NHS. 
Go to project website
The Politics of Black History
Dr Joe Pateman, discusses his research into the politics of Black liberation and the historical relationship between Marxism-Leninism and Black struggles against oppression.