You will have nothing to lose by learning about the things you are passionate about

Patricia Prystupa
Dual honours student
BA Politics and Sociology
Patricia explains the benefits of studying for a dual degree.
Why did you choose to study a dual degree?
When I was looking around for degrees to study during my UCAS days, I was unaware that you could even do a dual degree! It was not until I spoke with my tutor that this was brought to my attention.
Initially, I wanted to study Sociology as I had a passion for the subject and loved doing it at school since GCSE. When I found out that I could do Politics and Sociology, the degree sounded really interesting to me as I never had the chance to study Politics at school. So I thought to myself "Why not take up this opportunity?". This was during COVID, which meant that the role of government was much clearer in our everyday lives. My interest in politics skyrocketed when the Partygate scandal was exposed and from there, I've been heavily invested in politics.
Choosing a dual honours degree has allowed me to expand my knowledge of sociology and politics by giving me the skills to look at both from different perspectives. I believe that looking at society from just a sociological perspective limits you to theories and concepts, whereas by bringing in other lenses such as politics, you are able to think more critically about certain issues. Such as, why is research considered unethical when done for the government? What policies have had the biggest impact on the Welfare State in the past decade? 
What was it about Sheffield that made you want to study here?
When applying for Politics and Sociology at Sheffield, I was looking at the different modules being offered, and those really stood out to me. I have a massive interest in British politics as well as social research, and so when I saw those modules, I was interested. I looked around at the different modules and decided that I would love to learn more about them.
Sheffield itself is also part of the reason why I applied. Its location next to the Peak District makes it an excellent location to live if you want to go for a walk. The independent shops all around the city make it feel more homely. Oh, and also Arctic Monkeys, how could I forget?
How do the two disciplines intersect?
Politics definitely influences society in many different ways. For example, if you want to explore the ways certain politicians influence certain views within society, you have to apply theories and concepts to understand why the population has been influenced. Furthermore, sociological theories have an impact on political views. Feminism, for example, has impacted the role of women in society and how they are viewed. This has been reflected in politics with changes in legislation, programmes to get more women into STEM, and even with the increase in women in the House of Commons!
What are you favourite parts of the course?
I really enjoy indulging in wider readings for my modules to gain a deeper understanding of the topics covered in my lectures. Whether it is reading about language codes and linking them with social classes in the UK, or reading about why people use certain technologies as accessories, there are so many ways you can further explore your modules. In your reading lists, the professors include a range of wide readings you can do to give you a deeper understanding if you want to know more.
Have you been involved in anything interesting outside of your course?
I was lucky enough to get involved with the People's Politics Project. We went to a local primary school to teach Year 6s about basic politics. This opportunity was very valuable to me as not only did it teach me about time management and teamwork but it also gave me the opportunity to teach others about politics and why it is important. 
Growing up, I was clueless about politics and would have loved to have received this education. Sure, 10-year-old me would not have been able to grasp complex economic concepts or theoretical concepts, but it would have introduced me to an intrinsic part of society.
What are your plans for the rest of your course and after graduation?
On top of the core research modules next year, I hope to take the Human Rights and Power module, as well as the Policy and Practice module. I am also thinking about taking the Media and Consumer Culture module as consumerism is a part of our everyday lives in the age of social media.
I am still considering career aspirations but there are two which I would quite like to pursue - social research and civil service. I won't lie, it would be quite cool to have my name in an A Level textbook but I recognise that there are many research pieces that need updating, and areas that need studying. I have a particular interest in consumerism and social media, and the links between them. I would also like to do civil service as working with important government departments would help me improve the society in which I grew up. But who knows, maybe I'll become Prime Minister if the opportunity arises.
 
Patricia's advice for considering a dual degree:
My advice is to go for it! You will learn how to be organised with your work between the two disciplines, as well as learn a wide range of theories, concepts, academic skills and more. You will have nothing to lose by learning about the things you are passionate about.
Also, you get to meet so many different students from different disciplines. I have friends who do Politics and History, friends who do just Sociology, and friends who do just Politics. It's a great way of meeting new people.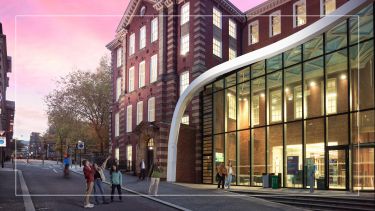 Visit us
Discover what sets Sheffield apart at our undergraduate open days on the Saturday 21 October or Saturday 18 November.