Basic information on temporary work visas for short term work, training and work experience in the UK.
We can't offer detailed advice or support with these types of visa applications.
Temporary Worker has five sub-categories:
These schemes allow you to undertake specific types of work in the UK for a period of one or two years, depending on the scheme.
It requires sponsorship and the sponsor must issue a certificate of sponsorship (CoS).  T5 Sponsors are listed together with skilled worker sponsors, visit:
It doesn't lead to settlement but you can have dependants.
Visit the relevant links above for more information about eligibility requirements and how to apply.
---
You can apply for this visa if you:
want to come to the UK for a short period to undertake work experience, training, research or to do an overseas Government language programme
have a sponsor
meet other eligibility requirements
The sponsor can be:
This visa will be granted for 1 or 2 years and allows you to:
You cannot:
The sponsored researcher route includes academics, researchers, scientists, research engineers and other skilled research technology specialists who may wish to come to the UK on a temporary basis to:
Conduct research on a formal project or collaboration
Undertake a period of work-based training/work experience/internship/placement
Undertake skill development/knowledge transfer
Undertake a series of lectures, which doesn't amount to a formal teaching post
Undertake external examinations
How to apply
You must obtain sponsorship from the host (eg University) who will need to issue a Certificate of Sponsorship (CoS).
You cannot be self-funded. You must be funded by the host, overseas employer, or an independent UK or non-UK funding body. The funding must be equivalent to or exceeding National Minimum wage.
You must not be filling an advertised position. The role must be supernumerary which means over and above the University's normal staffing requirements, such that if the sponsored researcher was not there, the role would not be filled by another person.
The University's Human Resource Department deals with this type of visa sponsorship. Please contact them for further information.
If you're a visiting academic or student researcher, you may be able to apply for a Standard Visitor visa.
If you've recently completed your studies and meet the requirements for the new Graduate Route visa, this could be a better option for temporary work, internships or work experience.
---
You can apply for a Youth Mobility Scheme visa if you:
This visa has replaced the Youth Mobility Scheme visa (T5).
You can:
study - for some courses, you'll need an Academic Technology Approval Scheme certificate
work in most jobs
be self-employed and set up a company - as long as your premises are rented, your equipment is not worth more than £5,000 and you do not have any employees
You cannot:
work as a professional sportsperson (for example as a coach)
extend your stay and it does not lead to settlement
get public funds
bring in dependants on your application - they must apply separately.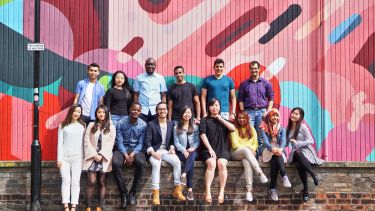 Information for students
The Student Services Information Desk (SSiD) answers a range of general student related enquiries