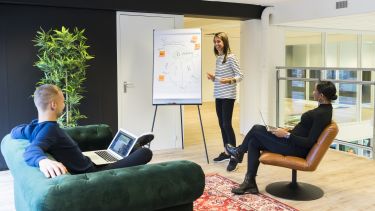 Off
Framing is about developing a clear and challenging focus, linking this closely to the policy agenda driving the foresight study.
In Regional Technology Foresight, this requires a comprehensive appraisal of the region's strategic policy cycle, and a thorough understanding of decision-making processes and structures, so as to adequately define visions that can be exploited by decision-makers.
At this stage, archival research looking at regional strategy documents produced within and for the region can provide a rich understanding of the socio-economic development processes. The analysis of existing policies enables the contextualisation of the issues in focus and the review of options for policy responses to technology-driven innovation and regional development.
Also at this stage, it is crucial to engage key policy stakeholders with the foresight research team to manage end user expectations about the purpose and value of foresight.
Toolkit Case
The 'Looking Back, Moving Forward' report offers a comprehensive overview of the current thinking about regional policies in the Sheffield City Region, by looking at the documents produced by a range of relevant actors (e.g. Sheffield City Region Combined Authority and Local Enterprise Partnership, central government agencies).
The final version of the report was co-produced in a 'Policy Learning Lab', established to facilitate continuous policy learning across the Sheffield City Region. The Policy Learning Lab convened a community of interest, composed of policy makers, practitioners and experts dealing with complementary facets of regional development policies in the Sheffield City Region, and ultimately aiming to help them improve the way they design and implement regional policies in the area of technology-driven innovation.
Flagship institutes
The University's four flagship institutes bring together our key strengths to tackle global issues, turning interdisciplinary and translational research into real-world solutions.