Sheffield Korean Video Contest
We are delighted to announce the return of our Korean Video Contest for the third time! The Korean Studies programme at the University of Sheffield is hosting a Video Contest to promote awareness of Korean culture in the UK.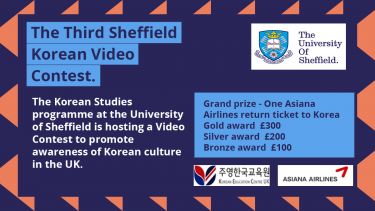 We are delighted to announce that the Sheffield Korean Video Contest is Back! We have incredible prizes and we cannot wait to see your submissions - make sure to read all the information below.
FAQ's:
Theme

My Korean Adventure.

Video subject

The subject can be anything related to the theme. No restrictions as to genre, e.g. documentary, drama, music video.

Recommended length

3-5 minutes, Korean or English.

(If it's in Korean, English subtitles are needed.)

Eligibility

Any individuals or groups are welcome to enter.

Selection criteria

Originality, relevance and artistry.

Deadline for entries

30th April

Prizes

Grand prize - One Asiana Airlines return ticket to Korea

Gold award - £300

Silver award - £200

Bronze award - £100

Award ceremony

Friday 20May 2020, 1-3 pm, venue TBC.
Entries
All submissions must be uploaded to YouTube or another video sharing site and the link emailed to Sukyeon Cho, s.cho@sheffield.ac.uk.
When you upload the file, the title should include 'Sheffield Korean Video Contest'. 
Questions?
Please email s.cho@sheffield.ac.uk
Ownership of submissions
All videos submitted become the property of the University of Sheffield. Winners must submit the original file and a consent form signed by the people appearing in the video before claiming their prize.
Use of submissions
By their participation, contest entrants agree that videos submitted may be used by the Korean Studies programme at the University of Sheffield for purposes of promotion, advertising, and written and electronic documentation.
Disclaimer
The University of Sheffield is not responsible for submissions that are incorrect, damaged, destroyed, lost, late, incomplete, illegible, altered, with a wrong address or misdirected. The University is not responsible for any damage or loss resulting from the video competition or relating to it. The submitted videos that do not meet all contest rules posted are not eligible. By submitting videos to this contest, participants agree that they understand all the contest rules.
A world top-100 university
We're a world top-100 university renowned for the excellence, impact and distinctiveness of our research-led learning and teaching.