Studying China, Japan or Korea prepares our students for a career in the world's most dynamic region.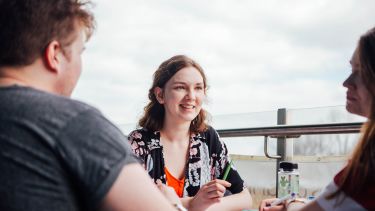 Strong economic growth in China, the globalisation of the Japanese and Korean economies and the growing cultural and diplomatic influence of all three nations offer significant opportunities for people with skills in Asian languages and cultures.
The School has its own Employability Officer who is there to offer specialist advice on careers, internships, work experience and CV building throughout your degree.
We also organise regular talks by alumni to provide inspiration and first-hand experience of the graduate job market, and invite companies working with East Asia (many of which recruit from the School) to give presentations on their sector. The University of Sheffield's Careers Service also offers a wide range of online and in-person support via Career Connect to ensure students have access to current employment opportunities and training to prepare them for the job market.
Where will your degree take you?
Our graduates have entered a variety of exciting and rewarding careers to become:
city brokers
accountants
company directors
business analysts
marketing specialists
journalists
television producers
university professors
museum curators
government advisors
NGO professionals
interpreters and translators.
Following graduation, some students have chosen to go on to do a PhD in the UK, specialising in subjects as diverse as media, economics, literature and politics.
Others have returned to their country of study to follow further advanced level postgraduate courses, often subsidised by prestigious international scholarships from the Chinese Ministry of Education, the Japan Foundation or the Korea Foundation.
Weekly online events
Attend an online event when it suits you, all year round, as an alternative to an open day.
Every Wednesday, Sheffield Live sessions cover different aspects of University life. You can also meet your department and learn more about studying your subject.