Information on SEAS scholarships and our current course tuition fees. Please note, the deadline for all our 2020/21 scholarships has now passed.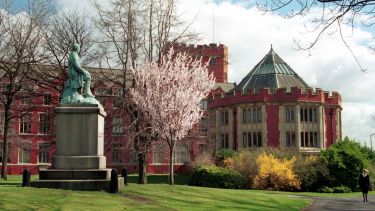 Information about our current tuition fees.
Continuation/write up fee
If you go beyond your normal period of registration and require more time to write-up your research, a continuation fee is charged instead of a tuition fee.
You are required to pay the continuation fee at the beginning of your writing up year and will be refunded any overpayment, on a pro rata basis, if you submit before the end of the 12 month period.
---
The 2020 scholarship deadline has now passed.
The University of Sheffield, Faculty of Social Sciences has funding for a number of PhD scholarships for 2020/21 entry.
These include ESRC White Rose Doctoral Training Partnership (DTP) and Faculty scholarships through the University Post Graduate Research Committee.
We strongly encourage PhD applications in the following broad areas:
Cities, Environment and Liveability
Civil Society, Development and Democracy
Data, Communication and New Technologies
Education Childhood and Youth
Security, Conflict and Justice
Sustainable Growth, Management and Economic Productivity
Wellbeing, Health and Communities
The scholarships offer:
Tuition fees
An annual stipend to cover living expenses equivalent to UK Research Council rates
Research Training Support Grant
All scholarships are available as a +3 (PhD) or a 1+3 (Masters and PhD), in combination with the MA Social Research. This route ensures  students meet ESRC training benchmarks for social research methods.
Eligibility
Our Faculty scholarships are open to applicants of any nationality and in any discipline within the Faculty of Social Sciences. Most ESRC White Rose DTP scholarships are open to UK and EU applicants; there may be limited opportunities for overseas students, and all applicants should check ESRC White Rose DTP guidance before making an application.
To apply for Masters and PhD funding, you will need:
Qualifications or experience equal to a first or upper second class honours degree or an equivalent combination of qualifications and/or experience
To apply for PhD funding, you will need:
Qualifications or experience equal to a Merit or Distinction in a Master's degree or an equivalent combination of qualifications and/or experience
Full eligibility criteria can be found here
Initial enquiries should be made directly to us at the School of East Asian Studies.
Training
We offer an outstanding academic environment for our PhD students. We provide an interdisciplinary research experience via the White Rose DTP to all our PhD students, regardless of scholarship funding source.
Quantitative and qualitative methods training at both Masters and PhD level is provided by Sheffield Methods Institute. There are also opportunities for three month internships with public, private and voluntary organisations.
---
The 2020 scholarship deadline has now passed.
The White Rose College of the Arts & Humanities (WRoCAH) is a Doctoral Training Partnership of the Universities of Leeds, Sheffield and York. It is responsible for the distribution of AHRC-funded doctoral studentships for these universities and for the coordination of a doctoral training programme.

WRoCAH has around 50 AHRC studentships that will be awarded through open competition.
Students can make only one application for funding through the open competition for either a student-led or a collaborative project. Projects are welcome from all departments, not just Arts & Humanities, so long as the research falls within the remit of the AHRC.
The studentship application form and details of how to apply for each type of studentship are only available from the WRoCAH website.
To be eligible for funding, applicants for all types of WRoCAH AHRC Studentships must have applied for a PhD programme at one of Leeds, Sheffield or York.
---
The Great Britain Sasakawa Foundation's Japanese Studies Postgraduate Studentship Programme was designed to support the development of Japanese studies in the UK.
Scholarships are worth £10,000 and intended to be used for 1 year's study at either taught postgraduate or research postgraduate level.
In order to be considered for a Sasakawa scholarship, please send a letter of application by 23rd January 2020 to Megan Morris explaining why you wish to be considered and why you think you are a good candidate.
---
The 2020 scholarship deadline has now passed.
This scheme provides academically excellent Chinese students with the opportunity to study for a PhD at the University of Sheffield. The scholarships are supported jointly by the China Scholarship Council and the University of Sheffield.
The Scholarship will cover
Eligibility
You must be a national of, and reside in, mainland China (not including Hong Kong or Macau). You must also be intending to return to China once your programme is completed.
Scholarships will be awarded on the basis of academic merit and the fit of the applicant's proposed research programme with Sheffield's identified research priorities:
University Tuition Fees
A grant for living costs
One return flight from China
Health, demographic change and wellbeing
Food security, sustainable agriculture and the bioeconomy
Secure, clean and efficient energy
Smart, green and integrated transport
Climate action, environment, resource efficiency and raw materials
The changing world – inclusive, innovative and reflective societies
Secure societies – protecting freedom and security of citizens
Find a PhD
Search for PhD opportunities at Sheffield and be part of our world-leading research.