Dr Seán Williams
BA, MSt, DPhil
School of Languages and Cultures
Senior Lecturer in German and European Cultural History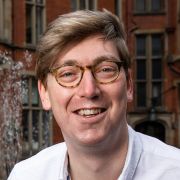 s.m.williams@shef.ac.uk
Jessop West
Full contact details
Dr Seán Williams
School of Languages and Cultures
Jessop West
1 Upper Hanover Street
Sheffield
S3 7RA

Qualifications

Seán has BA (Congratulatory First), MSt (Distinction), and DPhil degrees from Oxford. He has also studied in the USA and Germany. Before coming to Sheffield as a Vice-Chancellor's Fellow in 2015, he taught German and comparative literature at the University of Bern in Switzerland.
Research interests

Seán started out writing about German literary and intellectual history, especially of the late eighteenth and early nineteenth centuries. His work has since developed into much broader European cultural history. Coincidentally, the study of European cultural history actually began in Germany around 1800.

His book Pretexts for Writing is concerned with print culture around 1800, while his second book project – under contract with Reaktion Books – looks at cultural history since the eighteenth century, through the figure of the hairdresser.

Seán has edited special editions of German Life and Letters (on German literary anthologies 1700-1850) and Oxford German Studies (on post-war literature and institutions), and a special section of Forum for Modern Language Studies on Central European grand hotels, spas, and cultural criticism - a collection of essays examining material in German, Russian, Serbian, Croatian, Slovene and English.

Seán has published articles on topics ranging from philosophical contests with the eighteenth-century novel form, early consumer culture (from glassware to digestive cures), through to wigs and everyday stories of cancer survivorship in contemporary society. His work has been funded by the Arts and Humanities Research Council, the Hegel Archives, the Wellcome Trust, and other organisations. 

---

Dr Seán Williams' research in under 60 seconds:
Publications

Books

Edited books

Journal articles

Chapters

Book reviews
Research group

Seán is available for postgraduate supervision, on topics from the eighteenth century to the present day. He currently supervises three PhD projects: nineteenth-century conceptions of Swissness by Jade Johnson (as primary supervisor), motherhood in Weimar Germany by Katherine Calvert (as secondary supervisor), and cross-cultural conceptions of the post-nuclear in the late twentieth and twenty-first centuries by Alessandra Sau (primary supervisor).
Teaching activities

Seán introduces first-year undergraduate students to the cultural history of the German-speaking territories in the late eighteenth and nineteenth centuries.

He is module convenor for the second-year module German Culture and Ideas: the first semester works through the concepts of "curiosity", "common sense", "obsession", and "discipline" in order to understand the eighteenth and nineteenth centuries.

His final-year module Luxury and Liberty is a comparative study of the cultural history of consumerism in Germany and Britain, again in the eighteenth and nineteenth centuries.

More broadly, Seán also contributes to the team teaching of twentieth and twenty-first century literature in German, including Swiss Studies.
Professional activities

Leadership

Seán is Impact & Engagement Lead for the School of Languages and Cultures. He has given talks on the practice of public engagement throughout the UK, and published on the topic.

He was named a BBC/AHRC New Generation Thinker in 2016 and was an AHRC Engaging with Government Fellow in 2018.

He is Fellow of the Royal Society for the Encouragement of Arts, Manufactures and Commerce, and Executive Board member of the Association of German Studies in Great Britain and Ireland.

He was a member of the University of Sheffield Senate, and is on the Management Committee of the Humanities Research Institute.

Media

Seán is a regular contributor to international radio, cultural magazines, broadsheet newspapers, and television. He has presented discussion shows and his own documentaries on BBC Radio 3, and he has written for The Guardian, The Observer, The Telegraph, The Economist's 1843 Magazine, The Statesman, BBC History Magazine, History Today, the Public Domain Review, and Neue Zürcher Zeitung, among others.