The school has a long history of welcoming Academic Visitors from around the world to join the teaching and research life.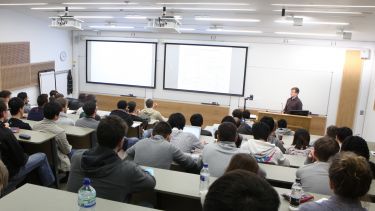 Overview
The School of Languages and Cultures offers excellent research opportunities in French Studies, Germanic Studies, Hispanic Studies, Russian and Slavonic Studies and Applied Languages. The school has over thirty academic staff, each of them internationally renowned in their field of expertise and with many years of experience in research supervision.
We have a thriving postgraduate community at Sheffield, including students and staff involved in the various MA programmes and PhD projects ongoing in the school. As an Academic Visitor, you would be invited to attend research seminars (a diverse programme is scheduled per semester) and the postgraduate colloquium.
Should your application be accepted, you would be invited to stay for either a 6 or 12-month period.
---
Resources and Research Culture
The school is based in Jessop West, an eco-friendly building at the heart of the University campus. It houses staff offices, work stations for postgraduate students, teaching spaces, and a cafe on the ground floor, which is a useful meeting place for our postgraduates.
The University Library subscribes to the major databases and peer-reviewed journals, and there is a regular free minibus to the British Library's depository at Boston Spa.
The school is proud of its lively and open research culture, and we encourage all our Academic Visitors to participate in the many reading groups, research seminars, and academic conferences which are regularly held here.
Please note, we only offer the opportunity for independent and self-directed study, there is no option for supervision. If your application is successful, you will be expected to participate in the research culture of the school, the specifics of which will be confirmed on a case by case basis.  
---
Facilities Available
You would be able to use the University library, computing services and other University facilities. Unfortunately, the school is unable to provide office space specifically for Academic Visitors. However, quiet workspaces are available in the Information Commons and Western Bank Library.
Ms Claire Leavitt is the first point of contact for all enquiries about research supervision. Depending upon the nature of your research interests, you may then be given the name and contact details of another member of staff most suited to your needs.
---
Accommodation
Finding accommodation is the responsibility of the individual Academic Visitor and it is recommended you view the University's Accommodation Services webpages for further guidance. Please note, that whilst at the University you would be classed as Visiting Staff and would need to pay the Council Tax for private housing.
---
Application Procedure
Please complete the online application.
---
Enquiries
Claire Leavitt, Academic Visitor Co-ordinator
E-mail address:c.leavitt@sheffield.ac.uk
Telephone number: 0044 114 2224398