Here are some examples of events hosted by Q-Step Sheffield.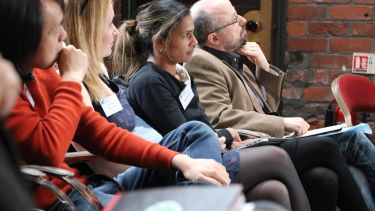 Essay Competition
In 2021 we launched our first essay competition for GCSE students, exploring the question "How do statistics affect our everyday lives?".
---
Nuffield Research Placements
Every summer Q-Step Sheffield host local students as part of the nationwide scheme "Nuffield Research Placements" that offers A-Level students the opportunity to attend universities and participate in engaging, hands-on STEM research projects. For more information about NRPs, please visit https://www.nuffieldfoundation.org/students-teachers/nuffield-research-placements 
---
DataFest Summer School
In recent years Q-Step Sheffield has hosted DataFest, a 4­-day summer school devoted to applied data analysis and employability skills.
---
Making Sense of Data in the Media
Q-Step Sheffield has created a Massive Open Online Course (MOOC) "Making Sense of Data in the Media" that runs 3 times per year with interactive support from the Q-Step Research Associates. The MOOC has reached thousands of online learners exposing abuses and misuses of statistics in the mainstream news.
---
PlaceME@SMI Scheme
The student placements at the SMI are funded by the Sheffield Q-Step Centre. This placement scheme gives undergraduate students the opportunity to undertake high-quality paid work experience on a number of exciting projects with respectable organisations.
A world top-100 university
We're a world top-100 university renowned for the excellence, impact and distinctiveness of our research-led learning and teaching.