ATD Forth World Poverty experts visit SMI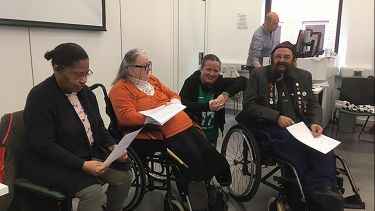 ATD Fourth World is an international organisation, with over 50 years of experience of tackling inequality and promoting social justice in the UK and internationally. Working in partnership with people affected by poverty, ATD Fourth World has an extensive track record of supporting families and influencing policy through collaborative research, activism and advocacy work. The movement works with affiliated organisations in 90 countries and has over 100,000 members worldwide.
Dr Will Mason, the coordinator of the event, explained why it was important that ATD Fourth World joined SMI students to discuss their participatory approaches and recent project The Roles We Play.
"It is a real privilege to have worked alongside ATD Fourth World and to be able to invite them to collaborate on the module.
In previous research methods workshops, we have talked through some of the principles, potentials and challenges of co-production and participatory approaches, but this can feel abstract in the absence of worked examples.
The Roles We Play is a film project and book that details the important roles that ordinary people play in their communities, it is a very powerful example of successful co-production alongside being a project that incorporates various creative methods, including participatory photography and filmmaking.
Convening this workshop offered an opportunity to share this dynamic and important work with students, offering a very practical sense of how these methods and approaches can be applied ethically and with care"
---
Thank you for such an interesting and engaging session. It's been so engaging to hear from a project which values people's experiences and voices and enables them to be the people who speak for themselves rather than be spoken about.

Anonymous

MA student
---
Students gave unanimously positive feedback about the session, with one saying it was a 'privilege to listen to the activists and hear about a unique project'.
The students told us that they felt the session was hugely significant for their future research. When asked what could be taken away and used in future, one student replied 'the importance of respect for the people who give their time and pieces of themselves to be part of your research – it is FOR them, not about them'. Another student added that she had learned 'how to engage with participants genuinely to jointly produce work' whilst being flexible with participants when conducting research'. One PhD student felt the session was a required event and a 'needed workshop as part of PGR training'.
You can find more information about ATD Fourth World and download a free PDF copy of The Roles We Play here.