G20 Argentina Summit Student Blog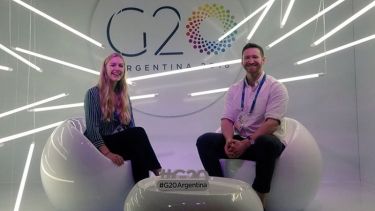 In late November I stood outside the ICOSS on a grim winter's day. In front of me was a minibus; the transportation for the first leg of our journey to the G20 in Argentina. There, world leaders would negotiate the treacherous world of global politics and discuss the major issues that face our economic and social systems. I was apprehensive and excited and more than a little cold.
One week later I returned home to Sheffield as a published policy analyst for Global Policy Journal. I had been to a new (much sunnier) continent. I had seen four world leaders in the flesh. I had been amongst the world's top journalists. I had watched tango and drank Malbec in Argentina's largest city. Most of all I'd had the privilege of being part of a small team of Sheffield students and lecturers whose intelligence had challenged and developed my ideas about international policy, yet, who were equally able to make me laugh after less than 4 hours sleep.
'How did I get here?' is the thing I found myself asking whenever I stopped to pause throughout the trip. And there is a simple answer to that… GLOSS.
Students at the University of Sheffield from across the Faculty of Social Sciences can apply to travel across the globe, attend a world summit, and work as policy analysts for the week. This is all part of the GLOSS programme.
As a new student to Sheffield gearing up to start a Masters in Social Research an email popped up in my freshly granted institutional email telling me this (thank you social sciences admin team). Apply to go to the G20 in Buenos Aires it coaxed. I joked with my friends about how amazing it would be as more of a fantasy than reality but hastily put together an application on the off-chance. Two months or so later I found myself in the second row of the President of Canada, Justin Trudeau's press conference.
When I applied for this opportunity I had no idea what it would be like. It's hard not to have pretty high expectations, yet it still managed to exceed them. It was academically rigorous, fast-paced and a lot of work in all the ways I had thought it would be. We spent long days at the International Media Center (IMC) typing away on our laptops, tweeting our insights, watching screenings of the latest developments and even making appearances on news channels before catching the last coach back to the hotel. We would then get up on time to be at the front of the queue for press-conference access.
What surprised me, however, was also how incredibly fun such a prestigious opportunity could be. Knowing we were only in Argentina for less than a week we battled our jetlag and explored the city in any spare time. The IMC doubled as an advertisement for Argentina to the world's media so we were presented with incredible local food (and wine) constantly. By the end of the trip I had gained some unforgettable memories and a group of new friends.
My experience at the G20 has helped me be a better researcher, building on the skills gained during my degree. Far from the dusty alcoves of the library, it has taught me how to write in an unpredictable, busy, high-pressure environment where you have to react to events as they happen. It has given me first-hand experience and invaluable insight into the workings of world politics that I can apply to my studies in the future. It has taught me how to articulate my arguments in new ways and immerse myself in new settings. It has also given me the confidence to take on challenges going into the future.
One of the most beneficial elements of the experience, however, was the collaborative working environment. As part of a team, we read each other's work, bounced ideas off one another and discussed the G20 events as they unfurled. Students were selected from across the social sciences meaning everyone had different backgrounds and research interests. I found myself learning about everything from food sustainability to digital development in Africa. As a result, this became an opportunity not just to develop my personal research and writing skills but to debate ideas, learn from others and broaden my horizons. When inevitably someone asks me to 'talk about one time you've worked well in a team' at a job interview, I now have a pretty impressive example.
To any students, current or prospective, at Sheffield Methods Institute I could not recommend applying for one of GLI world summit opportunities more (a quarter of the team this time around were SMI students so your chances look good). Sheffield is the only university in the country to provide an opportunity of this kind so grab the chance while you can. You certainly won't regret it.
For more information on the G20 Summit participation and Holly's policy briefing, visit our Global Policy website.