SMI celebrates International Women's Day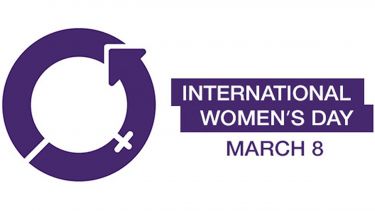 First up is Dr Lucy Jackson and the trouble with Gender Politics.
Lucy's research draws on debates within feminist geopolitics to examine the boundary of the nation through the individual body and the way in which state politics is herein imposed.
The research approaches the contested moral territory of the body arguing that, as marker of the state, the individual body has legislation, citizenly contracts, and legalities imposed upon it. This research looks to the contested domain of reproductive rights to explore the ways in which bodies are actively controlled in everyday lives. Specifically, this research looks into historical perspectives of reproductive healthcare with specific reference to Northern Ireland as part of the UK. Whilst women's reproductive healthcare is governed in Great Britain by the Abortion Act (1967), Women in Northern Ireland's reproductive choices are governed by the 1861 Offences Against the Persons Act which sees much stricter controls on abortion.
The research thereby looks into historical narratives around abortion in Northern Ireland and the 'women who travel' to access reproductive healthcare in Great Britain. Utilising archival research in Northern Ireland and England alongside qualitative interviews with reproductive rights activists, this project discusses women who travel, as mobile bodies of the state, and the historical legacy of the fight for equal healthcare rights within the United Kingdom dependent on national politics.
Lucy's recent presentation on her partly funded research by the Royal Geographical Society with IBG Schools and focuses on Gender Trouble, looking at body politics, femininity and gender roles.
---
Professor Kate Reed's research invites us to consider the implications of genetic screening and technology in medicine.
Kate's research focuses on two areas: the social and ethical implications of genetic screening and the impact of novel technological applications in medicine.
Kate's research has developed from issues of race, gender, masculinity and the father's role in pregnancy and pre-natal medicine, to the implications of technological advances and their applications within medicine, specifically Magnetic Resonance Imagery.
These interests are reflected in Kate's research Fathers' involvement in antenatal screening: midwives' views and more recently a project funded by the The Wellcome Trust which focused on exploring the gendered nature of genetic screening in pregnancy. The second, a recently completed British Academy funded project on Magnetic Resonance Imaging (MRI) use in pregnancy. The findings from this project were recently presented at an interdisciplinary dissemination event funded by the Sociology of Health and Illness Foundation (December 2013).
Kate is currently collaborating with The University of Sheffield Medical School and local NHS to develop this imaging work further, focusing in particular on the role of imaging in post-mortems. Kate is also continuing to develop research bids in the area of genetics, family history and health.
---
Dr Kitty Nichols wants to test your bants.
Kitty joined the department in 2014 as a teacher whilst completing her PhD in Sociological studies entitled 'Banter, masculinities and Rugby Union: exploring the relationship between masculinity and humour in men's lived realities of gender.' Drawing on data from a three-year ethnographic study of a Northern Rugby club, the thesis was concerned with how men experience and negotiate the gendered structures which underpin sporting sites.  So when we say Kitty has bants, we mean it!
Kitty's main research interests are in the broad areas of gender, sexuality, identity, sport, humour, language, emotion and age. Kitty is also interested in research methodology and developing innovative qualitative methods.  Kitty teaches modules on Men, Masculinities and Gender Relations as well as Gender, Sexuality and Society.   This research touches on many of the hot topics of recent times and you may be asked to discuss Love Island in class as much as Susan Falludi. As Kitty is interested in the construction of masculine culture and 'laddism', her research also looks at mental health and the use of bants as emotional expression. 
---
Dr Aneta Piekut invites you to look at immigration and social segregation.
Aneta joined the Sheffield Methods Institute in 2014. Before that she worked as a researcher at the Universities of Warsaw (the Centre of Migration Research, 2005-2009), Leeds and Sheffield (2010-2014). She completed her PhD at the University of Warsaw in 2009.
A sociologist by training, Aneta's research spans several disciplinary boundaries and focuses on the relationship between ethnic diversity and social cohesion.  Aneta's research looks at the attitudes towards immigration and ethnic minorities, as well as integration and socio-spatial segregation.
During difficult social and political climate, Aneta's research looks at the 'othering' of the immigrant and social segregation. At a time when difficult questions are being asked about migration and mapping the ideas of difference.
Aneta's research is also award winning! In 2017 she won the prestigious SAGE Prize for Innovation and Excellence awarded by the British Sociological Association's (BSA) for a paper published in Sociology journal and she is also a certified Fellow of the Higher Education Academy (HEA) since 2017.