The SMI welcomes the 2nd Nuffield Research Placement students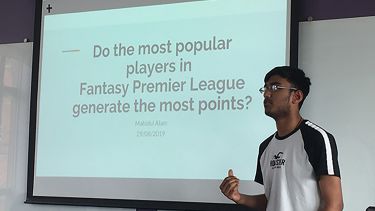 After a competitive selection process the group of students, all around the age of 17 years old, were invited to take part in the 4 week Nuffield Research Placement.
During the 4 week long placement, the students have been working on building and developing their critical thinking, communication and data analysis skills, as well as learning how to visualise and analyse quantitative data in the social sciences. These skills are transferrable to a whole range of career pathways, not least academic study.  The placements ended with a presentation of the research undertaken by the students.
This is the second time the SMI have hosted the Nuffield Research Placements, in partnership with the Nuffield Trust, the scheme is in line with our commitments as a Q-Step centre and it's something that the staff at the SMI think is a valuable tool in introducing the world of social science research to school leavers. Whilst the Nuffield Research Placement is a UK-wide programme, our students come from the surrounding areas of South Yorkshire.
For more details on this scheme, please see the information from Nuffield.