Dr Aneta Piekut
Sheffield Methods Institute
Senior Lecturer in Quantitative Social Sciences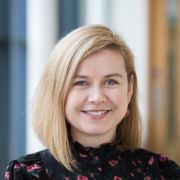 a.piekut@sheffield.ac.uk
+44 114 222 6288
Interdisciplinary Centre of the Social Sciences (ICOSS)
Full contact details
Dr Aneta Piekut
Sheffield Methods Institute
Interdisciplinary Centre of the Social Sciences (ICOSS)
219 Portobello
Sheffield
S1 4DP

Profile

Dr Aneta Piekut joined the Sheffield Methods Institute in 2014. Before that she worked as a researcher at the Universities of Warsaw (the Centre of Migration Research, 2005-2009), Leeds and Sheffield (2010-2014). She completed her PhD at the University of Warsaw in 2009. Her doctoral research was partially funded by the Ministry of Science and Higher Education in Poland (2005-2009).

Aneta is also Co-Director of the Migration Research Group and a Deputy Director of PGR training in the Faculty of Social Sciences.

She is sociologist by training, but her research spans disciplinary boundaries. Her research focuses on the relationship between ethnic diversity and social cohesion, attitudes towards immigration and ethnic minorities, as well as integration and socio-spatial segregation. She employs mixed method approach in my research, from advanced statistical methods to creative in-depth interviewing.

She published widely in leading academic journals on issues of migration, ethnicity and segregation (e.g. European Sociological Review, Sociology, Social Science Research, Social & Cultural Geography, Journal of Economic and Social Geography (TESG)), and in 2017 she won the prestigious SAGE Prize for Innovation and Excellence awarded by the British Sociological Association's (BSA) for a paper published in Sociology journal.
Publications

Books

Journal articles

Chapters

Book reviews

Conference proceedings papers

Website content

Working papers
Research group

Current research projects:

1. Co-Director of Nordforsk/ESRC "Life at the Frontier: The Impact of Social Frontiers on the Social Mobility and Integration of Migrants" (https://www.lifeatthefrontier.org) (2020-2023; 12.5 million NOK, app. £1M)

2. H2020-WIDESPREAD-2018-2020, Coordination and Support Action to establish the "Migration, Integration and Governance Research Centre (MIGREC: http://migrec.fpn.bg.ac.rs)" at the University of Belgrade (2019-2022; Co-I, app. £710,000)

3. Horizon2020 Cross-Migration project, Consultancy work for Work Package 6 on "Migration Flows in Europe" (2019; PI, £5,000)

4. "Modern Poland: Migration and Transformations", Oxford Noble Foundation (2017-2019; Co-I; £30,000)

5. IMISCOE seed funding to establish research cluster "Diversity, Migration & Social Cohesion", IMISCOE (https://www.imiscoe.org) (2014-2015: PI, €6000)

6. "Highly skilled immigrants from European Union in Warsaw", Ministry of Science and Higher Education in Poland (2010-11; PI, 15,000 PLN)

7. "Highly skilled workers of transnational corporations in Warsaw ", Ministry of Science and Higher Education in Poland  (2007-2008; PI, 20,000 PLN)

Aneta's current PhD supervision:

Natalie Bennet, Social cohesion, ethnic diversity, and mental wellbeing (funded by NIHR School for Public Health Research (SPHR); co-supervision with prof. Sarah Salway)
Ben Gardner, Modelling of passenger clearance at the UK Border (funded by ESRC CDT Data Analytics & Society; co-supervision with prof. Gwilym Pryce & dr. Mauricio A. Alvarez)

Aneta is interested in supervising motivated research students in the following areas:

The relationship between ethnic diversity and social cohesion;
Consequences of international migration for local communities and everyday lives of migrants and non-migrants;
Spatial distribution and ethnic segregation;
Attitudes towards immigration, various immigrant groups and ethnic minorities;
Highly skilled migration and intra-EU mobility;
survey methodology, specifically item nonresponse, measurement, mixed-mode surveys;
Advanced quantitative and mixed methods research.
Teaching interests

Methods are not neutral tools of data collection and analysis, so in her modules Aneta encourages students to critically reflect on why and how they apply them. As with other lecturers at SMI, Aneta's teaching is research-led, with substantial time devoted to hands-on practice with data.

In 2020/21 Aneta was awarded a TIER (Teaching Integrity in Empirical Research) Project Fellowship in a recognition of embedding principles of transparency and reproducibility in her teaching of quantitative social sciences.

Aneta is a certified Fellow of the Higher Education Academy (HEA) since 2017.
Teaching activities

Aneta convened the following core modules for BA Quantitative Social Sciences (QSS) degree:

SMI108 Survey Design and Data Collection - which teaches students how to design and conduct effective social surveys and analyse survey data;
SMI205 Advanced Research Project in Quantitative Social Sciences - which encourages students to be critical of quantitative methods and teaches them how to replicate an academic paper;
SMI303 Research Dissemination in Social Sciences (with Dr Will Mason) - which teaches how to communicate dissertation research in an engaging way to non-academic audiences.
SMI304 Doing Mixed Methods Research - teaches students how to put together research drawing on both qualitative and quantitative methods.

Team-taught modules for social sciences students include:

SMI110 Lies, Damned Lies and Statistics (with SMI Qstep lecturers team) - an open-credit module for all students from the Faculty of Social Sciences on data literacy;

Aneta also coordinates an annual SMI Student Conference, which brings together students from all cohorts of BA Applies Social Sciences and BA Quantitative Social Sciences.

Together with colleagues from SMI Aneta developed a highly successful MOOC 'Making Sense of Data in the Media' - a massive, open, online course on - making sense of data in the media and beyond. It's available for free here.
Professional activities