Dr Mark Taylor
Sheffield Methods Institute
Senior Lecturer in Quantitative Social Sciences and AHRC Leadership Fellow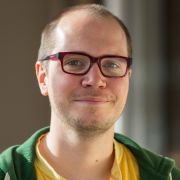 m.r.taylor@sheffield.ac.uk
+44 114 222 7124
Interdisciplinary Centre of the Social Sciences (ICOSS)
Full contact details
Dr Mark Taylor
Sheffield Methods Institute
Interdisciplinary Centre of the Social Sciences (ICOSS)
219 Portobello
Sheffield
S1 4DP

Profile

Mark Taylor is Senior Lecturer in Quantitative Methods, and AHRC Leadership Fellow (Creative Economy). He's interested in cultural and creative industries, with particular focuses on social inequalities in work and in participation. His background is in sociology, but his research interests are interdisciplinary, across sociology, cultural policy, cultural studies, music, and other fields.  

His most recent book, with Orian Brook and Dave O'Brien, is Culture Is bad for you: Inequality in the cultural and creative industries. 

Mark joined the SMI in 2014. Before that, he worked at the Universities of Manchester and York, and completed his DPhil in Sociology at the University of Oxford.
Research interests

Mark's primary research focus is on inequalities in cultural and creative industries, broadly defined. Why is it that work in cultural jobs is so socially exclusive, given the way that the sector describes itself? Why is it that audiences are so socially homogeneous? Is there anything that we can do to change this? 

He's also interested in related issues, such as the ubiquity of data in everyday life, the conditions of working in creative jobs, the ways that what constitutes creative work are constructed and defined, and the overall structure of different industries.

Mark's used a wide range of different research methods, including the collection of original survey data, analysis of existing large survey data sources, network analysis, spatial analysis, and qualitative methods. He's also worked with a large number of partners outside universities in order to do so.

In addition to his current Fellowship where he's investigating these issues in more detail, he's currently working on two other projects. With colleagues at Sheffield, he's working on Living with Data, funded by the Nuffield Foundation; with a team led from Leeds, he's working on a project investigating the impacts of Covid-19 on the cultural sector.
Publications

Books

Journal articles

Chapters

Reports

Datasets
Teaching interests

Mark's teaching is focused on working with students so that they can articulate the questions they're interested in answering, identifying the methods that are most suitable for answering those questions, and implementing those methods practically. He's particularly interested in working with students who don't have a background in quantitative methods or in programming who are interested in becoming more comfortable with working with data. 

While working at the SMI, Mark's taught a wide range of modules, including data visualisation, research design, and social analytics. He's also the author, with Andy Bell, Todd Hartman, Aneta Piekut, and Alasdair Rae, of Making sense of data in the media.

He's been a Fellow of the Higher Education Academy since 2016, and a Senior Fellow since 2018.
Recent research projects

UK Games Industry Census was a collaboration with Ukie, the games trade association in the UK. This project aimed to estimate the composition of the UK games workforce, in a context in which it's hard to measure using official statistics.

Panic! What happened to social mobility in the arts? is a collaboration with Create London, Barbican, the Guardian, Goldsmiths, and the British Art Show. This project collected primary survey and interview data on people working in the cultural sector.

Who is missing from the picture? The problem of inequality in the creative economy and what we can do about it is an AHRC-funded project investigating social inequality in creative work, focusing particularly on changes in the social origins in the creative sector over time, and on the attitudes and values of people working in creative work. It is a collaboration between the SMI, the Edinburgh College of Art, Barbican, Create London, and Arts Emergency.

Makerspaces in the early years: enhancing digital literacy and creativity is an ERC-funded project investigating maker cultures and young children, partnering makerspaces in a wide range of countries with universities. Through this project, Mark was seconded to Victoria University (Melbourne, Australia) and FabLab Berlin.

Laboratory Adelaide: The Value of Culture, based at Flinders University (Adelaide, Australia) is an ARC-funded project investigating the value of culture beyond dollar amounts. Mark worked in Adelaide for a month investigating existing survey data to understand how people articulated their experiences of the Adelaide Festival.