Case study: Emily Coupland and Dubit
Hear from Emily Coupland and Dylan Yamada Rice from Dubit on their participation in the CDT partnership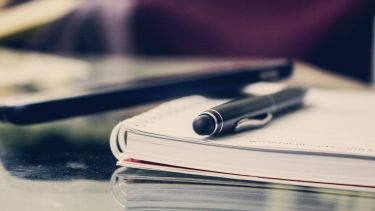 Student: Emily Coupland | Partner: Dylan Yamada Rice - Dubit
---
Student: Emily Coupland
Why did you apply for a CDT studentship?
It was mainly because the PhD topic sparked my interest. I worked in marketing and media for over four years, studied media at an undergraduate level, and was also interested in coding and the impact of data. So for me, the PhD project combined interests which had previously felt somewhat separate in my career. With the Data CDT programme, the funding and the integration of a masters made it feasible for me to return to university at a PhD level.
How have you found the integrated MSc/PhD approach?
The MSc (in Data Analytics & Society) starts with the basics but moves quickly into more advanced material and practicals, so in a sense, it is almost like a conversion masters for those not from a quantitative background. As I understand it the MSc aims to equip social scientists with quantitative skills to undertake a data-focused PhD, so it's suitable for students from a range of backgrounds. This was good news for me, as I wasn't previously from a quantitative-focused background.
On this programme, you also make progress towards your PhD in the first year, as you work with your partner company on an internship module and work towards your literature review and proposal. This allows you to tailor your MSc work to tie in with your PhD area and vice-versa. For instance, for one assignment we were tasked with selecting and exploring a dataset, and many of us chose to use a dataset relevant to our PhD. For this assignment, I chose to use a LinkedIn user dataset, and the insight from this has been useful in exploring the field of media audience data, which is relevant to my PhD.
What are some of the skills you've developed so far?
I'm currently in the second semester of my first year and I've learnt a lot already about social research and quantitative methods, and I've also had the opportunity to begin reviewing literature from my research area. My modules have covered coding in Python and R, data analysis, data environments, confidentiality and privacy, as well as a qualitative methods module.
The MSc is mostly very practical which means you develop practical data analysis skills fast. We have had intensive week-long domain skills modules across all CDT universities (Sheffield, Leeds, Manchester, Liverpool) which have predominantly involved "learning by doing" and a significant amount of self-learning when undertaking the practical assignments.
I've also found the experience of working with my partner company (Dubit, a children's media production and research company) really valuable. I've already had opportunities to be involved in their research projects and to put my data analysis skills to practical use in my internship. It's rewarding to know that I'm already contributing towards their projects and in working with them I've realised just how much my data analysis skills have progressed thanks to the MSc. Many PhD students do not have the opportunity to work with an industry partner, and many integrated MSc/PhD students do not get the chance to progress towards their PhD in the first year, so both of these elements make the Data CDT unique.
What's the topic of your PhD/research project?
The title of the project is 'Understanding media audiences in the age of big data'.
Your project partner is Dubit - how have you worked with them so far/how are you planning to work with them?
I'm currently working with Dubit on my internship project which is an assessed piece of work which will count towards my MSc. Before this, I spent time with their team in order to better understand their data and their research processes. As a bonus I've also been involved in some of Dubit's research projects, which has provided really useful insight into the practicalities of media audience research in the industry. Dubit have been really welcoming and accommodating to me, and I really look forward to working with them more over the course of my PhD.
Would you recommend applying for a CDT project to other students?
I'd recommend applying if you see a project that you're interested in. For me the project and research area were what made me decide to apply. You'll be working in the field of research for at least four years and it's hard work, so working in a field you're passionate about will really help you out. 
---
Partner: Dylan Yamada Rice - Dubit
Why did Dubit want to become a CDT partner?
Dubit is a digital studio developing products for children and young people. As part of the development of new media, toys and content we also have an in-house research team that feeds into this process.
We are always on the lookout for new ways to innovate and drive forward the types of research data we collect, how we analyse and visualise it.
At the same time graduate applicants for positions in media and analytics don't always arrive with the right skills for the job, and media research companies aren't always aware of the academic advances in data science techniques.
This placement was a good opportunity for information sharing between Dubit and the University and drive forward the possibilities specific to research in this context.
What is Dubit hoping to gain from the partnership? 
We get to learn the ways that new analyses and techniques can be applied to our existing research data to gain fresh insights. So far, Emily is undertaking a data internship which forms part of her masters programme leading into the PhD she will undertake afterwards.
For this, Emily has been working closely with us and our survey data about children's access and engagement with digital media and content, to design and undertake a data analysis project.
How has Dubit worked Emily so far?
Members of our research team have sat down with Emily to discuss how our research works, with a particular focus on the quantitative side of things. We have also involved Emily in some of our field-based research projects. We have used our industry insight to develop research questions with Emily that will have an impact in our field. Emily has had the opportunity to explore and visualise real market research and trends data for herself, and we have set up a shared repository where we can collaborate and grow our project.
What are the plans for the rest of the project?
Emily will be scoping out her research and completing her masters within her first two years.
During this time she has plans to continue observing our research practices and to continue to work with our data. Emily will use the insight gained from working with us this year and next to scope out the research project. To do this she will explore trends in children's educational media consumption using our historical research data, web scraping and public data (World Bank, UN etc), explore the ability of our datasets to forecast future trends and analyse the usefulness of our datasets for providing insight on respondent behaviour and media consumption.
Find a PhD
Search for PhD opportunities at Sheffield and be part of our world-leading research.