The staff on the course are incredibly accommodating with the content and are responsive to requests from students

Tom Ryan
Postgraduate student
MA Social Research
Tom explains more about his Social Research MA and how he has successfully secured a PhD.
I chose to take MA social research as I wanted to develop my research skills from undergraduate with a goal in mind of applying to the civil service or wider research jobs in the future.
Having taken Politics and Sociology at undergraduate I assumed this year would be less interesting content and more research methods work in isolation. This couldn't have been more wrong, each module I have taken has allowed the freedom for students to tailor their assessments around their own research interests, and whilst there is of course, lots of research training across the MA it is all with your own research interests in mind.
---
The staff on the course are incredibly accommodating with the content and are responsive to requests from students.

Tom

MA Social Research student
---
Throughout the MA we have been offered opportunities to have input into how our lectures will be carried out, for example recently we voted as a class on what we wanted our 'wildcard' session to be about in our Principles of Research Design 2 module.
The MA is split into compulsory and optional modules giving you a good balance of topics - along with wider modules from other disciplines, allowing you to really explore the areas you are interested in. I am taking a Sociology Gender Studies module this term that has been fascinating.
The compulsory modules provide an introduction to both qualitative and quantitative research, alongside two principles of research design modules that focus on the process of carrying out research. All the module leaders are great, and they incorporate their own research into the sessions to provide clear examples of the topics discussed and further allowing for interesting conversations about the application of research approaches.
Over the summer you must complete a dissertation on a topic of your choosing, which allows you to use the skills learnt so far on the MA on a research project you have designed yourself. The supervisors are allocated from wider social sciences departments, meaning you always have a supervisor that knows your subject well. Alongside this, the course team make it clear they are happy to chat through any questions you have during the summer about your dissertation.
Studying on the MA has given me a deeper interest in research than I initially expected and has led to me applying for, and receiving, ESRC funding for a PhD starting in October. The PhD funding submission was built on research I did in my 'Introduction to Qualitative Research' module, with the module leader initially discussing PhD's with me as an option. The staff at the SMI were incredibly supportive with my application, with one of my supervisors based in the department.
Throughout the year I have been able to deepen my understanding both of the methods I will be using, and also the topic itself, through the assessments which has been incredibly interesting and useful in preparing for the next 3 years!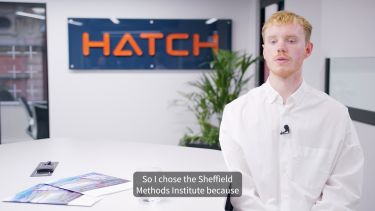 Mae & Charlie are here to tell you more about Applied Social Sciences
Applied Social Sciences student Mae and alumnus Charlie will tell you what they enjoy most about the course, what skills they have learned and how it has helped develop their career.
Weekly online events
Attend an online event when it suits you, all year round, as an alternative to an open day.
Every Wednesday, Sheffield Live sessions cover different aspects of University life. You can also meet your department and learn more about studying your subject.