What house prices can tell us about religious integration
Connections in house price changes across neighbourhoods have been used for the first time to identify the level of religious integration in Glasgow, revealing that the religious mix of a neighbourhood is as important to homebuyers as house type and size.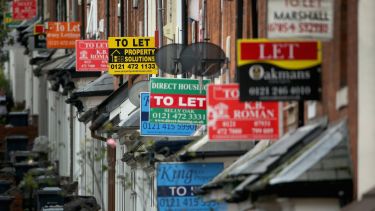 Professor Gwilym Pryce in collaboration with Dr Nema Dean from the University of Glasgow looked at the extent to which house prices moved together across neighbourhoods using different religious populations as an indicator of integration across the city.
Properties in neighbourhoods that are considered to be close substitutes for one another typically experience similar movements in price over time. A pair of neighbourhoods can be said to be religiously integrated if they are perceived by the market to be close substitutes despite their religious differences.
However, the study, published in Urban Studies and carried out under the auspices of the Economic and Social Research Council-funded Applied Quantitative Methods Network (AQMeN), identified clear differences in Glasgow's house price movements depending on the religious demographics of a neighbourhood.
Researchers compared these differences to more typical attributes used to identify similar neighbourhoods such as house type, size and income levels.
They found that for some religious groups (Church of Scotland, Roman Catholic, Muslim and no religion), differences in religious mix between neighbourhoods was just as important in determining whether house prices moved in tandem as these more tangible attributes. This suggests that the Glaswegian housing market is by no means blind to religion.
Professor Gwilym Pryce, Professor of Urban Economics and Social Statistics at the Sheffield Methods Institute and co-author of the study, said: "It is the first time that house price data has been used in this way and offers a completely new method to measure the degree of social integration in a city or region.
"While we know that Glasgow has a diverse mix of religions, our study indicates that religion has a role to play in determining which neighbourhoods are considered to be close substitutes for one another and suggests a lack of integration."
The method can also be used to identify 'hidden' social boundaries between communities. For example, Dan Olner, a researcher in the Sheffield Methods Institute, used the model developed by Gwilym Pryce and Nema Dean to develop an interactive data visualisation tool. Using this tool we can identify stark differences in the substitutability of postcodes just north and south of the Forth and Clyde Canal in Glasgow, even though these communities were only a few hundred metres apart.  See maps A and B below.
Map A
Map B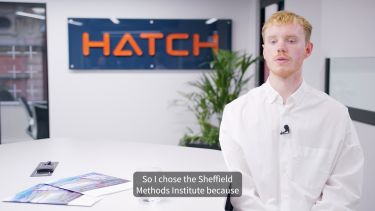 Mae & Charlie are here to tell you more about Applied Social Sciences
Applied Social Sciences student Mae and alumnus Charlie will tell you what they enjoy most about the course, what skills they have learned and how it has helped develop their career.
Flagship institutes
The University's four flagship institutes bring together our key strengths to tackle global issues, turning interdisciplinary and translational research into real-world solutions.