Find out more about how you can specialise your Digital Media and Society programme, through our themed routes.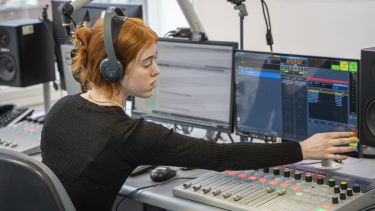 Our Digital Media and Society degree is unique in bringing together expertise from across Sheffield's Faculty of Social Sciences. Digital media experts from the Department of Sociological Studies, the Department of Journalism Studies and the School of Education all contribute to this innovative programme. This means that you have the opportunity to study digital media developments in relation to a range of fields such as education, marketing and consumer society or journalism. 
How does it work?
Our themed routes are like roadmaps to help structure your degree based on your interests and potential career goals. If you do chose to do a themed route, it won't appear on your transcripts or degree certificate, instead, view our themed routes as a recommendation.  Before each semester starts, you select your optional modules - the section below shows which modules we recommend for your preferred route. 
Once I've chosen a themed route, can I change my mind?
You can start a route in first year, and then decide you no longer want to focus on that discipline during second year. There's no obligation to do them, nor are you required to do all the modules. It's a flexible way for you to think about tailoring your education to suit your interests or future career prospects.
What options are there?
We have three themed routes as part of the Digital Media and Society course:
Journalism
The Department of Journalism Studies is currently rated number 2 in England for Journalism by the complete University Guide 2022. By choosing to follow our 'Journalism' themed route you get to experience some of this department's fantastic modules, gain a greater understanding of the responsibilities of a journalist, and engage with theories surrounding the power of journalism. 
First Year Modules
Analysing News

This module will focus on how to analyse contemporary news outputs. Students will be introduced to a selection of methods such as content analysis, framing analysis and discourse analysis, which will allow them to analyse news outputs and focus on looking at current issues as they arise. Examples of recent studies will be read and discussed and teaching staff may also talk through how they conducted their own studies. The module will enable students to use basic research methods by starting with the news and topics rather than `dry' methodologies, as well as considering the ethics of journalism and the codes used in an attempt to regulate the industry.

20 credits

Reporting Institutions

This module aims to help students understand how the world works - how the levers of power operate in international, national and local politics and how they can use this information and understanding to hold those in power to account on behalf of readers, viewers and listeners.

20 credits

Lies, Damned Lies and Statistics

Whether you're a journalist writing stories for the public, or a social research analyst working in government, you need to be able to understand, use and present data. This 10 credit module aims to demystify data and encourage critical thinking on statistics; often wrongly used, and sometimes in very misleading ways. The module will equip you with the knowledge and skills you'll need to become a discerning data user, through engaging teaching, active learning and examples from the news media. The module is comprised of a mix of lectures and computer workshops and is assessed through a multiple choice exam.

10 credits
Second Year Modules
Data Driven Storytelling

Data-driven approaches to reporting are gaining in popularity and importance in today's world. Established media institutions, such as The New York Times in the US or The Guardian and Press Association in the UK (and many more around the world) already have units that specialise in data journalism. Thus, it becomes essential for the next generation of journalists to be data-literate and to appreciate how data can be verified and used not only to find stories but to tell stories. This module is designed to make you confident and comfortable in working with data and, furthermore, to expand your journalistic toolkit for data-driven, analytic and investigative journalism.

20 credits

Media Law for Journalists

This module provides for those wishing to be journalists, or studying journalism, essential knowledge of media law applying in England and Wales, and of regulatory codes which UK journalists should comply with. This law includes that of defamation, privacy and contempt of court, and other law governing court reporting. The codes seek to uphold journalistic standards generally, including protection of people's privacy and of the identities of sources promised confidentiality. The module also demonstrates that UK journalists can assert `human rights' which in law and the codes uphold freedom of expression, including publication of material `in the public interest'.

20 credits
 Third Year Modules
Free Speech and Censorship

Free Speech and Censorship critically explores the historical and contemporary status of freedom of speech and expression and the limits and constraints on this liberty. The module covers topics as varied as the philosophies of free speech; the history and significance of free speech; the legal framework for the protection of free speech in Europe and the US; the limits of free speech and press freedom; debates about harm and offence. Students taking this module should be interested in examining these debates as they apply to contemporary media, legal and political systems. Assessment is via academic coursework on a topic selected by the student and approved by the module leader.

20 credits
---
Education
In the School of Education, research and teaching sit at the forefront of economic and policy debates, focusing on concerns about equity, access, inclusion and social justice. By following our Education themed route, you'll discover some of the key issues surrounding child development and child psychology, and explore the themes that shape current educational policy and practice.
First Year Modules
Making Sense of Education: Facts, Fiction and Data

Politics, practices and media discourses related to Education, frequently invoke 'evidence' or statistical reasoning in an attempt to persuade. These approaches can be deliberately misused or accidentally misleading. This module will equip you with the knowledge you need to become a discerning data user and critic through a mix of active learning, seminars and computer workshops. You will develop practical skills to support your engagement with 'evidence' throughout your studies, explore a range of issues in qualitative and quantitative research design, and create a foundation for your future development as a critical researcher.

20 credits

The Digital University

What is it like to be a University of Sheffield student, without ever setting foot on campus? What can learners in Mumbai, Adelaide, Capetown, and Shanghai learn from each other? And what new possibilities and challenges are digital technologies opening up for higher education? These questions, and more, will be explored in this module about online, distance, and blended learning: all forms of digital learning where students can be based anywhere with an internet connection. An experience of digital learning is part of the module, and participants will both take an active role in and learn from this experience.

20 credits

Education, Power and Society: Introduction to the Sociology of Education

This module explores the relationship between educational institutions/cultures/systems and social inequalities. We focus on class, gender, ethnicity and disability and look at the ways in which education systems serve to tackle or reproduce patterns of inequality and relations of power. The module also evaluates different policy frameworks and goals. For example, whether the focus of education policy should be placed on nurturing active citizenship (and what this would look like) or whether the main priority should be to serve the needs of the economy (and how this might be achieved).

20 credits

Social and Historical Constructions of Childhood

In this module students will explore how childhood has been portrayed across different societies and at different times, and will examine how childhoods are shaped and influenced by the societies in which children live, learn and are cared for. Through a series of lectures, group work and individual study tasks, students will think about the ways in which childhood has changed over time and how different views and perspectives on childhood create different expectations of children. Through the study of historical and social constructions of childhood, students will develop a fuller understanding of how ways of working with children can be shaped by external influences.

20 credits

Child Psychology

This module explores the relationship between psychological theory and educational policy and practice, considering some of the ways in which Education and Local Authority services have been influenced by ideas about children developed in psychological research. Some of the core concepts of Psychology are introduced such as cognitive psychology (intelligence, language and learning), behaviourism (including modification techniques), social and emotional development (including family and attachment, trauma) as well as the study of individual differences (with reference to psychopathologies such as autism, attention deficit/hyperactivity disorder).

20 credits
Second Year Modules
Children and Digital Cultures

Digital technology has transformed the lives of many, impacting on culture and society. Many young people have quickly seen ways of extending and deepening social networks through their uses of technology, and immersed themselves in Virtual Worlds, Facebook etc and enjoyed browsing on shopping sites. This module examines new technologies and associated social practices impacting on children's lives, considering the nature of new digital practices and how these affect identity, society and culture. Educational implications of new technologies is a developing field of research and students will engage critically with debates within the field alongside examining websites and new practices.

20 credits
Third Year Modules
Education@Sheffield

In Education@Sheffield students are invited to explore and evaluate the rich and diverse research taking place within the School of Education. Through a series of seminars presented by active researchers, students are encouraged to critically engage with research - and the researchers themselves - in the fields of educational and childhood studies. The Education@Sheffield module enables students to acquire a critical understanding of various themes, settings and methodologies which shape contemporary educational research.

20 credits

Globalising Education

This module considers the extent to which education might be viewed as a global context with a shared meaning. Moving outwards from the dominant concepts, principles and practices which frame 'our own' national, or regional responses to education, the module explores other possible ways of understanding difference. By examining 'other ways of seeing difference', in unfamiliar contexts, students are able to examine the implications of globalisation for education and explore the opportunities and obstacles for the social justice agendas within a range of cultural settings.

20 credits
---
Marketing and Consumer Society
Our marketing and consumer society is offered by Marketing specialists within the Department of Sociological Studies.  At the University of Sheffield, we believe in research-led teaching. Our academics take their fieldwork, methodologies and theories and bring them into the lecture theatre and seminar room for students to learn, practice, question and develop. For example, Dr Harrison Smith's research focuses on consumer surveillance and it's impacts on marketing, which coincides with his module 'Sociology of Media and Consumer Culture'. 
Second Year Modules
Sociology of Media and Consumer Culture

This module examines the relationship between media and consumer culture. It explores debates of audience research, influence, marketing, and advertising. Students will develop an understanding of media, consumer culture, and their wider impacts on society.

20 credits
Third Year Modules
Digital Marketing: Culture, Consumption and Control

This module examines the sociology of digital marketing. It situates the emergence of data-driven marketing within a broader social history of marketing practices and discourses. Students will learn to critically understand the social implications and power dynamics of digital marketing and their impacts on everyday media environments.

20 credits
---
A selection of modules are available each year - such as the examples above. There may be changes before you start your course. From May of the year of entry, formal programme regulations will be available in our Programme Regulations Finder.
Explore the University
Discover why Sheffield is the right choice for you at one of our open days or events.