The Department of Sociological Studies hosts conferences and events for researchers, students and the wider academic and professional community, both across the UK and internationally.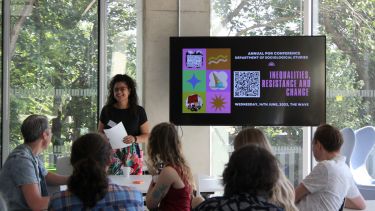 Off
A list of our past events are archived in this section of the website.
---
Forthcoming events
---
ESRC Digital Good Network 
Keynote lecture - Łukasz Szulc on Feminist and Queer Manifestos for Digital Utopias
22 June, 1pm to 2.45pm
University of Sheffield and online
The ESRC Digital Good Network is delighted to host Łukasz Szulc, Senior Lecturer in Digital Media and Culture at the University of Manchester, for what is sure to be an engaging keynote lecture as part of our first Digital Good Network summer school. 
When it comes to digital technology, academics in social sciences and humanities are often playing catch-up. The rapid acceleration of technological change, the black-box nature of major digital technologies and academics' hindered access to Big Tech's data force us to provide a largely belated or reactive critique. Arguing that critique alone is not enough to shape better digital futures, Łukasz will build on the idea of utopia to think about the digital good in a radical and revolutionary way. 
The event will be hybrid - attendees are able to join in-person at the University of Sheffield and online. All are welcome, refreshments to follow.  
Sign up and further information here
---
Migration Matters Festival
Together for Change
22 June, 4pm to 6pm
Workstation, 15 Paternoster Row, Sheffield City Centre, Sheffield S1 2BX
Together for Change is an evening of events co-created by members of Young People Together, a creative empowerment programme for young adults from around the world aged 16-30, in partnership with Stand & Be Counted Theatre and the University of Sheffield.
As part of this year's Migration Matters Festival we are hosting an evening of live performance, documentary and discussion. Join us for 20 minutes or 2 hours, everyone is welcome.
Events at the University
Browse upcoming public lectures, exhibitions, family events, concerts, shows and festivals across the University.