The Department of Sociological Studies hosts conferences and events for researchers, students and the wider academic and professional community, both across the UK and internationally.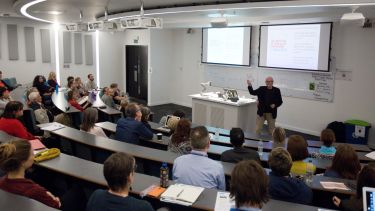 A list of our past events are archived in this section of the website.
---
Forthcoming events
---
The Art of Healthy Lifespan Festival
Saturday 28 January – Saturday 4 February 2023
A series of free events exploring ageing and health across the life course
Join us at The Art of Healthy Lifespans for a series of inclusive events and exhibitions showcasing the role of art and creativity in understanding and enhancing health and well-being across the life course.
Free and open to all.
To find out more information about the festival and to book on events, please visit the Art of Healthy Lifespan festival page.
---
John Westergaard Annual Lecture
Thursday 2nd February 3.00pm - 4.30pm.
The lecture will be a hybrid event, with the opportunity to attend F2F or join online. Please register for the event via Eventbrite.
Location: Richard Roberts Auditorium
Lecture by Professor Sam Friedman, London School of Economics.
 
Sam Friedman is Professor of Sociology at the London School of Economics. He has     published widely on class, culture and social mobility, and recently co-authored The Class   Ceiling: Why it Pays to be Privileged. He is also the author of Comedy and Distinction: The   Cultural Currency of a 'Good' Sense of Humour and co-author of Social Class in the 21st     Century. He is currently working on a new book (with Aaron Reeves) looking at the historical     development of the British elite, drawing on the entire 125-year database of Who's Who. 
Born to Rule: 125 years of Change and Continuity in the British Elite 
The British elite has always been trailed by caricatures. Occupying a central place in the global cultural imagination, it is routinely skewered as a closed establishment cabal, a totem of 'old-boy' class inequality, a snobbish out-of-touch chumocracy, and more recently, the dynamic engine room of financialised capitalism.  But beyond the narrow scholarly accounts and journalistic polemics - who actually are the British elite? How do people reach its ranks and obtain their power? How has it reproduced itself over time? And what does eliteness really look like in contemporary Britain? In this lecture I answer these questions by mining a new and unparalleled data set of the British elite (constructed with my co-author Aaron Reeves). Bringing together the entire historical database of Who's Who, the Oxford Dictionary of National Biography, genealogical records, Probate data, and 100 in-depth interviews, I analyse the 100,000 individuals that have shaped Britain over the last 125 years.  
The story I uncover looks notably different from prevailing narratives. Certainly, Britain's upper echelons are no longer a closed shop. But neither are they in terminal decline. While the elite has become both significantly more open, in terms of social origins and schooling, and more diverse, in terms of gender and ethnicity, this progress has now stalled and, in many areas, processes of elite reproduction have been rejuvenated. Indeed wealth and occupational position increasingly overlap, suggesting the return of a ruling class who wield both increasing economic and symbolic power. And, significantly, just as this elite pulls away, so it also masters a careful public performance of 'ordinariness' to head off public suspicions of snobbishness and self-interest. These changes matter. Put simply, when elites are socially homogeneous they are more likely to reward those similar to themselves and implement policies that protect their advantages. This lecture thus aims not only to provide a forensic empirical exploration of the British elite, but also argues that this elite can and should be re-made through the political choices we, as societies, make.
---
Events at the University
Browse upcoming public lectures, exhibitions, family events, concerts, shows and festivals across the University.