Apply to our Visiting International Fellowship Scheme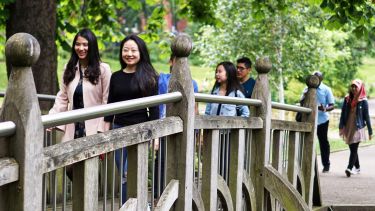 The Department of Sociological Studies at the University of Sheffield welcomes applications for its Visiting International Fellowship Scheme. The scheme is open to academics worldwide who are able to demonstrate how they will contribute to fostering the development of international sociological research relations in the Department.
The Department is committed to building teams of people from different heritages and lifestyles from across the world, whose talent and contributions complement each other to greatest effect. We believe diversity in all its forms delivers greater impact through research, teaching and student experience. The Department actively encourages applications to our Visiting International Fellowship Scheme from individuals from diverse backgrounds. 
The Department offers two categories of Fellowship, and funds a maximum of one in each category per year. The categories are:
Senior International Fellow - Please note this position has now been filled.
Early Career International Fellow - Please note this position has now closed.
A Senior International Fellow should normally hold the equivalent position of a Senior Lecturer or Professor. An Early Career International Fellow should normally hold the equivalent of a postdoctoral research position or Lecturer. 
Fellowships are awarded for the duration of one academic year, and involve a mix of in-person (one visit) and virtual engagement and collaboration. In-person visits are expected to last between 4 and 6 weeks per year. Applicants may request funding for up to £2,500 to support their travel and subsistence expenses for the duration of the visit.
 
Background and Scope
The Department of Sociological Studies is committed to understanding society and social change, and to research and teaching that is relevant to people's lives. It is proud to be one of the top social science research departments in the UK, with a long history of high profile contributions to theory, policy and practice. It has a major international reputation for excellence in research and teaching across Sociology, Social Policy, Social Work and Digital Media and Society.
The Department's research is shaped by four core interdisciplinary themes:
Everyday Life and Critical Diversities – micro social life and social diversity seem banal and commonplace yet they are the social we all inhabit and most regularly experience and it is this that makes them important – everyday relations and intimacy, belonging, experiences of exclusion and hierarchies of difference and social connection in online environments and in localities are some of the priorities for Department members working in this theme.
Social Inequalities and Social Order – the nature and extent of class, age, place, gender, ethnic, generation based inequalities and the ways in which these are managed through formal and informal processes of social ordering is integral to the Department's research focus and can be seen in the work on social differentiation, migration and mobility, social exclusion, crime and surveillance, social change and conflict, responsibilisation and governance.
Well-being across the Lifecourse - this theme focuses on the ways in which people move through life stages and the social and cultural processes and policy encounters shaping these. In this context work in the Department examines childhood, young people, ageing, families and family relations. These lifecourse processes are socially, economically and culturally situated. Reflecting on this theme questions the nature of social differentiation, policy formations and social inclusion strategies such as social care and pension provision.
Science, Technology and Medicine in Society - this theme raises questions around the meanings, personal and public experiences and outcomes of health, medical interventions, technologies, digital life, science and the governance of these fields. It has a proven track record of securing external research funding as well as providing high quality undergraduate and postgraduate teaching programmes.
As a Visiting Fellow, you will be expected to make a contribution to the current research themes within the Department, exploring the possibilities for future collaboration and internationalisation of the Department's current research themes. For an overview of our research themes in practice, as well as the research centres and networks that we lead, take a look at our research web pages.
Aim of the scheme
The scheme aims to:
develop the Department's international profile and reputation;
build the Department's international networks and collaborative partnerships;
create potential for reciprocal visiting schemes;
bring expertise, a new resource and input to the wider Department;
increase the visibility of international collaborations within the Department, and encourage future collaborations with academic staff and postgraduate research students.
Call details and expectations of the Fellow:
The Department holds one annual call for Visiting International Fellowships. Calls are announced in Spring each year with a July deadline. If successful, Fellows will be expected to commence their visit the following academic year and they must have completed it by the end of the academic year in question.
Fellowships are awarded for the duration of one academic year, and involve a mix of one in-person visit and virtual engagement and collaboration over the course of the academic year.
Fellows are expected to undertake a programme of work with a sole or multiple collaborators from the Department. That programme of work will be bespoke to the Fellow, but would normally include elements such as collaborative writing of articles and other outputs, the staging of workshops / symposia, the development of external research bids and impact and public engagement activities. In addition to the proposed programme  of work, Fellows will be expected to contribute to the research environment of the Department by giving one or two seminar presentations (virtual / in-person). Where appropriate, they will also be asked to deliver a research methods masterclass with post graduate students, and to nurture new research relationships in the Department with potential to develop funded collaborative proposals or research development/exchange activities. Fellows will also be asked to document their work and achievements via a report, blog activity or by other means deemed appropriate.
Reporting Requirements/working arrangements
Fellows are provided with desk space within the Department of Sociological Studies and will be assigned a lead contact for any enquiries or questions throughout the duration of the visit. This will usually be the member(s) of staff identified as the main collaborative contact(s) for the visit.
Funding available
Fellows can request funds of up to £2,500 – this is mainly envisaged to support travel costs but also to make a contribution to accommodation costs for their visit. All requests for funding must be fully costed and justified in the application form. Please note that costs need to be justified.
Please note that although the scheme offers up to £2,500, it does not offer a payment of £2,500 for a fellowship. All anticipated costs for the fellowship need to be fully justified and should be based on realistic travel and accommodation costs. Fellows will be reimbursed for their expenses upon submission of their receipts. Further details on how to claim expenses will be sent to the successful applicants.
NB: The Department maintains the right to withhold payment of expenses should a Fellow fail to fulfil their proposed programme of work.
As a guide, we recommend applicants take note of the current University per diem rates for subsistence and accommodation. These are as follows:
Subsistence: £25.00 per diem
Accommodation: Current availability and rates for University accommodation are available at the Jonas Hotel.
Assessment criteria:
The track record of the scholar
Fit with the current areas of research expertise within the Department
The proposed programme of work
Value for money
How to apply
Applicants will need to submit a C.V., along with their completed  Visiting International Fellowship application form.
 
The C.V. should include academic and professional posts held since graduation, a list of recent publications and details of any current or recent funded research. The C.V. should not exceed two pages.
The C.V. and application form should be submitted to R.Stubbs@sheffield.ac.uk by the deadline – Friday 30th September 2022.
A panel will be convened, chaired by the Director of Research, to review the applications and make a selective decision.
Applicants will be notified of the outcome of their application by Friday 14th October 2022.
The successful candidate will be expected to undertake their Fellowship the following academic year, commencing September/October 2022 and to have completed it by the end of August 2023.
Enquiries should be directed to Professor Majella Kilkey, Director of Research (M.Kilkey@sheffield.ac.uk).
Flagship institutes
The University's four flagship institutes bring together our key strengths to tackle global issues, turning interdisciplinary and translational research into real-world solutions.