Child and Youth Ethics Event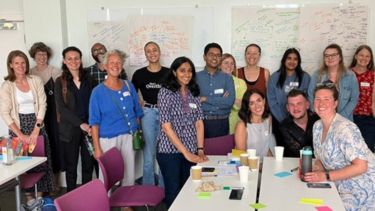 The event was developed by Dr Thea Shahrokh and Dr Liam Wrigley who successfully applied for funding from the University Research Ethics Committee (UREC) back in January 2022. With the support of an international working group of academics and practitioners, a day long process made up of two workshops, took place on Thursday 16th June 2022 in the Department of Sociological Studies. The event explored a range of pressing ethical issues in child and youth research and explored ethical case studies and provocations offered by delegates. The event hosted a range of practitioners and young people from University of Bedfordshire youth advisory groups and notable young people's charities, such as Football Unites Racism Divides Educational Trust and The Proud Trust – one of the UKs leading charities for LGBTQ+ young people.
The day was extremely productive and promoted a collegial ethos in building solid foundations for exchange of knowledge between young people's communities, practitioners and academics. The event was noted by delegates for the good balance between in person and online interactive activities. The online workshop in the morning enabled an additional 18 people to participate in the foundational work to set the agenda for the new guidance. From here, nine people have expressed interest in staying involved and continuing the collaboration. The process has extended the ethical communities of practices that will work together to develop updated youth and childhood research ethics guidance embedded into the British Sociological Association ethics statements. The day enabled a core working group of practitioners and academics to come together in person after having collaborated throughout the COVID-19 related lockdowns to produce the rejuvenated ethical guidelines that are fit for young people-led research in the 2020s.
The day was structured around a series of workshop events that encouraged participatory ways of thinking and potential solutions around ethical dilemmas and concerns regarding research with young people. The day opened with an address from Dr Shahrokh and the BSA working group leads Dr Liam Berriman and Sophie Atherton. The in-person and online delegates then opened with mapping activities about the aims and objectives of the day. As the day progressed, Dr Jayne Price and Dr Catt Turney supported visioning work on the values and principles underpinning caring, empowering and accountable research ethics. After this Dr Elsie Whittington led on a 'world café' style event where all delegates could work with real-time examples of ethical dilemmas in childhood and youth research. This was fruitful and some provocations included: issues with data sharing, young people's digital lives, ownership of research materials, contextual and situational safeguarding, identity and bereavement/ death in the research process.
The day ended having gathered and disseminated findings to the closed working group. The working group consisting of Dr Thea Shahrokh, Dr Liam Wrigley and colleagues, will identify key areas of development regarding research ethics with children and young people, with the support of an advisory group. The advisory group will promote accountability on delivering the updated guidance, which is hoped to be shared in line with the BSA annual conference 2023. This introductory event will span further, with several 2023 events now in production with colleagues at Sussex University and research outputs from the working group forthcoming.
A world top-100 university
We're a world top-100 university renowned for the excellence, impact and distinctiveness of our research-led learning and teaching.