New leadership for the Department of Sociological Studies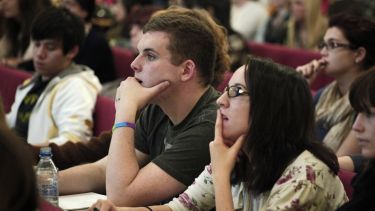 Whilst we will be sad to see Kate step down, the Department is very pleased to announce that Professor Nathan Hughes will be taking up the Head of Department position. Nathan joined the University of Sheffield in October 2017 as a Faculty Professorial Research Fellow. His research has focused on the criminalisation of childhood neurodevelopmental disability and he has built a national and international reputation for his work in this area.
---
I am delighted that Professor Hughes will be our next Head of Department, he brings enthusiasm, leadership skills and knowledge to the role and I know the Department will continue to flourish during his tenure. I would like to say a personal thank you to everyone in the Department, and to warmly wish Nathan well in his new role.

Professor Kate Morris

Faculty of Social Sciences Director of Teaching and Learning
---
Professor Hughes said:
"On behalf of my colleagues in the Department, I would like to thank Kate for all of her efforts as Head. She has been an outstanding leader, overseeing a period of great success in our teaching and research, while also creating a strong, supportive and collegiate environment. Kate's success is particularly well reflected in the group of excellent early career academics we now have in the Department, who are helping to deliver an innovative and exciting programme of teaching and research. 
"Given these successes, it is a wonderful time to take over as Head of Department, and I feel privileged to have this opportunity. The task we have now inevitably set ourselves is to sustain this collective success, particularly as we now enter a challenging period for higher education, defined by the REF, the TEF and the outcomes of the Augar review. We can face this challenge with confidence and from a position of strength though, given our outstanding team of teachers, researchers and professional services staff. I look forward to playing my part in support of this."
Everyone in the Department would like to thank professor Morris for all the work she has done to help make Sociological Studies at Sheffield a leading centre for sociological research and teaching over the past few years, and we wish her luck in her new Faculty role. We are looking forward to welcoming Professor Hughes into his new role on 1st May.
Events at the University
Browse upcoming public lectures, exhibitions, family events, concerts, shows and festivals across the University.