Sociology student takes dissertation research to the British Conference of Undergraduate Research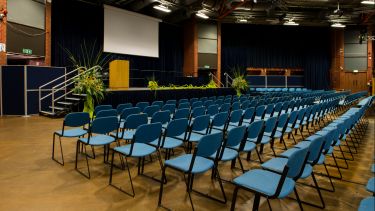 Matilda Sloley, currently studying BA Sociology in the Department, presented research from her dissertation on the experiences and impact of Sex and Relationship Education (SRE) on millenials to a wide range of national delegates at the conference on Thursday 12 April 2018.
The BCUR promotes undergraduate research in all disciplines and meets annually every Spring in a different British university. This year's event took place at The University of Sheffield.
Undergraduates of all levels are invited to submit papers, posters, workshops and performances to the Conference. Abstracts are peer-reviewed and those accepted will be invited to attend the conference.
After hearing about the conference from one of her lecturers, Matilda decided to submit an abstract to the conference organisers, proposing that she base her presentation on her third-year dissertation, 'Millenials' experiences of Sex and Relationship Education (SRE).
Matilda said: "I thought that presenting at an academic conference, an opportunity you don't really get at undergraduate level, would be a good experience and something different to have on my CV. Speaking about my dissertation project made me learn my dissertation inside out, so it really helped me when writing it up.
"Meeting undergraduates from other universities who do completely different subjects to you was really interesting. Also, getting feedback from people on your presentation is really great to gain new ideas for your research, and new opinions too!"
---
The rich relationship between teaching and research is a key foundation for student learning at a Russell Group institution like The University of Sheffield. Exposing students to the excitement of developing, testing and explaining ideas is an essential part of all our degrees, and encouraging students to become active researchers via the process we as academics follow in our daily work is a vital aspect of helping students develop as individuals.

Professor Wyn Morgan

Vice-President for Education
---