Dr Hannah Ditchfield
PhD
Department of Sociological Studies
Research Associate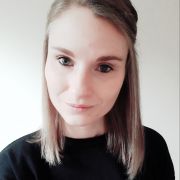 Profile

Hannah joined the department as a University Teacher in October 2018 after working as an MA Dissertation Supervisor within the Digital Media and Society team over the summer months. She completed her PhD in Media and Communication in 2018 at the University of Leicester where she also worked as a Graduate Teaching Assistant between 2013-2017.

She completed both her MA and BSc at Loughborough University.
Research interests

Hannah's PhD research explored pre-post activity of online communication, referring to the interactive work that occurs before a post is shared with its intended audience. She examined how Facebook users utilised and managed the affordances of the social networking platform with a focus on the activities of pre-post editing and multicommunication. She developed an innovative approach to data collection using 'screen capture' software and drew on conversation analytic approaches in the analysis of the data. This thesis made a number of original contributions to knowledge relating to the study of online communication; presenting a unique perspective on how Facebook users maintain 'face' in pre-post interaction, exploring the use of "simplification techniques" within multicommunication activity and contributing to existing understandings of temporal organisation within online communicative environments. The thesis also makes a series of distinctive methodological interventions; challenging existing understandings of the public/private distinction in writing on online research ethics and working through methodological challenges of using screen capture software that have not yet been confronted by scholars.

This year Hannah is working on submitting several journal publications based on her PhD research.

In the past, she has worked on many projects including being one of the founding editors of a PGR journal (for(e)dialogue) and the lead organiser of two PGR conference events including MeCCSA PGN 2016 and New Directions in Media Research (2015). She has also presented at numerous conference events including at the International Pragmatics Association (2017), The Micro Analysis of Online Data (2016), and Approaches to Digital Discourse (2015).
Teaching activities

Hannah will be teaching on the following modules in 2018/2019:

Semester one:

SCS6078 Researching Digital Society
SCS6089 Digital Identities
SCS6083 Dissertation in Digital Media and Society

Semester two:

SCS6083 Dissertation in Digital Media and Society
SCS6082 Social Media, Data and Society

Hannah also supervises BA and MA dissertations on a range of topics.

Previously, at the University of Leicester, Hannah has taught on

The Sociology of New Media (MA)
Digital Media and Everyday Life (BA)
Topics in Media and Communication (BA)
Mass Communication (MA)
Identity and the Popular (BA)