Professor Paul Martin
BA (Hons), MSc, DPhil
Department of Sociological Studies
Professor of Sociology
(He/him)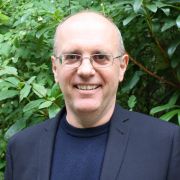 Profile

Paul works at the interface of science and technology studies (STS) and medical sociology. He joined the Department in March 2012 to take up the position of Chair in the Sociology of Science and Technology, and Director of Research. He was Head of Department from April 2014-December 2016.

He has a first training in biology with a BA Zoology from the University of Cambridge. He won an MRC PhD studentship to undertake biomedical research at the Mammalian Development Unit at University College London, but his scientific career ended after he suffered a very serious head injury in a road traffic accident.

Paul then worked for a number of years in the voluntary sector as a campaigner and policy analyst for the group Health Rights.

He returned to academia after taking an MSc in Sociology (social policy) at Southbank University and completed a DPhil part-time at SPRU at the University of Sussex. His PhD thesis was a historical sociology of the development of gene therapy in the USA.

Paul worked at SPRU as a Research Fellow on a series of EU projects related to innovation in the bio/pharmaceutical industry, science policy and the regulation of emerging medical technologies

In 1999 he moved to the University of Nottingham and helped establish the Institute for Science and Society (ISS) as one of Europe's leading centres in STS with a strong commitment to supporting the career development of postgraduate students and early career researchers. He was Director of ISS from 2009-2012 until he moved to Sheffield.
Research interests

Paul has a strong track record of high quality empirical research, as well as research leadership and project management. Over the course of his career he has raised over £2.6M of external funding as Principal Investigator and held seven major awards (worth > £100k) from the ESRC, Wellcome Trust, Leverhulme Trust, and European Union. He has published ~ 50 peer reviewed articles in leading national and international journals.

Currently Paul's research interests are:

The development of epigenetics and the role of science in (social) policy;
Novel biosocial concepts and methods in the social sciences;
What it means to be human in the 21st Century;
The clinical and commercial development of genomics and personalised medicine;
Responsible Research and Innovation.

Paul is currently Principal Investigator on a Leverhulme Trust funded grant; How Does Inequality get Under the Skin? Epigenetics, health disparities and the making of social policy (2014-18, £215,000).

This is studying the development of the emerging science of epigenetics as a means of better understanding the link between deprivation and inequalities in health, and how this new knowledge is being used to inform public policy.

The project has a strong focus on providing a sociological understanding of how this new multidisciplinary field is being constructed and the role of epigenetics in providing accounts of the biological embodiment of social and environmental experience.

His work on epigenetics is part of a broader exploration of the changing relationship between biology and society, and the rise of new 'biosocial' approaches to understanding questions of health, behaviour and social interaction.

In particular, Paul is interested in how ideas of society and 'the social' are used in the biological sciences and how novel biosocial methods might be applied to social science research. In future, he is looking to extend this strand of work to critically investigate how new biological knowledge is changing how we understand what is means to be human.

To help achieve this, Paul is working closely with Dan Goodley and Kirsty Liddiard (Education) and Warren Pearce and Stevie deSaille (Sociological Studies) to establish a major new multidisciplinary Institute for the Study of the Human (iHuman) iHuman draws on expertise from across the social sciences, humanities and STEM disciplines, and brings together academics, community groups and third sector organisations.

It promotes risky conversations between and across disciplines and does this primarily through a number of externally funded research projects.

Another strand of ongoing research concerns the clinical and commercial development of emerging biotechnologies. This builds on his previous research on genomic medicine, pharmacogenetics, regenerative medicine, synthetic biology and gene therapy.

Paul is currently undertaking preliminary research and preparing funding applications on the development of gene editing technology (with Ilke Turmendag, Newcastle).

He has contributed to policy debates in this area and has been invited to an OECD Expert Meeting on Gene Editing in Berlin in July 2017.

Before leaving Nottingham Paul was awarded a £1.7M Leverhulme Trust programme grant on Making Science Public: Opportunities and Challenges. He was initially PI on this major five-year grant, but this role was taken over by Brigitte Nerlich in December 2011, who successfully delivered an outstanding programme of research.

As part of this, Paul recently completed a project (with Stevie deSaille) on policymakers and activist concepts of responsible research and innovation (RRI). He currently chairs the University of Sheffield working group on RRI.
Publications

Edited books

Journal articles

Chapters

Book reviews

Other
Teaching activities

SCS1017 Science, Technology and Society
SCS3034 What it means to be Human