Dr Preeti Raghunath
(she/her)
Department of Sociological Studies
Lecturer in Digital Media and Society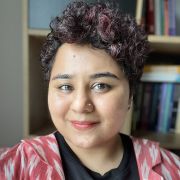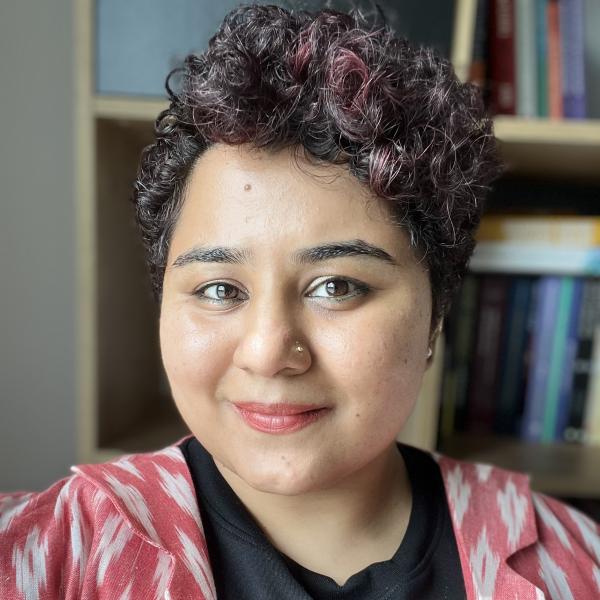 p.raghunath@sheffield.ac.uk
Floor C, The Wave
Full contact details
Dr Preeti Raghunath
Department of Sociological Studies
Floor C
The Wave
2 Whitham Road
Sheffield
S10 2AH

Profile

Preeti Raghunath joined the Department of Sociological Studies in 2023 as a Lecturer in Digital Media and Society. Preeti brings with her international teaching, research, administrative and professional experience. Prior to joining the University of Sheffield, she taught at universities in India and at Monash University in Malaysia, where she also directed the Master of Communications and Media Studies. She holds a PhD in Communication (2019) from the University of Hyderabad and a Master's in International Relations and Politics (2011) from Jawaharlal Nehru University, both in India. Preeti has worked in the media industry in India, before joining academia full-time. 
Research interests

Preeti's current research is focused on inequities (policies and practices) pertaining to Data and AI technologies. She is particularly interested in the histories and situatedness of data-centric practices. She is currently developing her research on historicising the making of the global data economy by pursuing two interlinked strands of inquiry: (a) histories of datafication, particularly British imperial datafication and indentured labour, and (b) present-day transnational data industries and data work as seen in India.


Previously, Preeti conducted a media policy ethnography across four countries of South Asia for her doctoral research, which was published as a book with Palgrave Macmillan in 2020. An edited collection focused on drawing up a media anthropology of India is under contract and forthcoming with Routledge.
 
Research group

Preeti is interested in supervising research projects that pertain to inequities and communication technologies, especially focused on histories and historiographies of datafication, interpretive/critical/deliberative policy studies pertaining to AI and data, critical political economy of the data industries and labour, and related areas. She welcomes research that focuses on Southern experiences within and between geographical regions. 
Grants

Preeti has secured grants and consultancies with entities like the Association for Progressive Communications (APC), International Telecommunications Union (ITU), UN Women, Indian Council Social Science Research (ICSSR), and sub-grants from the Open Society Foundation (OSF) and Ford Foundation. She has received travel grants from the International Association for Media and Communication Research (IAMCR) and the International Public Policy Association (IPPA) to present papers at their annual conferences. She is the recipient of the Best Paper Award from the Communication Policy and Technology (CP&T) Section of the International Association for Media and Communication Research (IAMCR) 2018 for her paper titled, 'Airing Imperium: A Historiography of Radio Governance in South Asia'. Here are details of funded research projects she has pursued after her PhD:

Co-Investigator – Industry SEED Project with Action Lab, Monash University, Australia (2023) - Volunteer-driven governance of community platforms in Sri Lanka.
Research Consultant – United Nations University, Macau (2022-2023)
Gender and AI in Southeast Asia, funded by the ITU and Government of Australia
AI and the Women, Peace and Security Agenda in Southeast Asia, funded by UN Women
Country Expert, India  –  Bottom-up Initiatives and Anti-Corruption Technologies: How Citizens use ICTs to Fight Corruption (BIT-ACT), University of Bologna, Italy (2021-2023) 
PI – Hated Speech and the Costs of Freedom in India, Grant by the Association for Progressive Communications (APC) (2021-2022)
Professional activities and memberships

Preeti serves as a Vice-Chair of the Global Media Policy Working Group of the International Association for Media and Communication Research (IAMCR) for the period 2020-2024. She is also a member of the International Communication Association (ICA), International Public Policy Association (IPPA), the Association of Internet Researchers (AoIR) and the European Communication Research and Education Association (ECREA).
Partnerships, engagement and impact

At her previous stint, Preeti was instrumental in securing and building inter-institutional partnerships, like a Memorandum of Understanding (MoU) with the United Nations University in Macau, liaising and collaborating on research projects on AI and Gender in Southeast Asia, funded by the International Telecommunications Union and UN Women.


Preeti has been part of a national consultation with the Government of India in the area of community radio policy, which was the focus of her doctoral research. Her research report titled 'Hated Speech and the Costs of Freedom in India' funded by the Association for Progressive Communications (APC), is part of Columbia University's Global Freedom of Expression curriculum. She has contributed to public communication of her academic research on deliberative democracy and policies pertaining to broadcast media, education and data governance via editorials and think pieces for popular outlets, both print and digital. 


She welcomes collaborative opportunities in areas of common interest.